U.S. Factory-Job Listings Signal Hiring May Slump Again in April
(Bloomberg) -- Recent weakness in U.S. factory hiring may be more than a blip, according to data from Glassdoor Inc.
Economists project Friday's jobs report will show manufacturing employment rebounded in April following the first decline in more than a year, but a Glassdoor report released Tuesday shows postings for factory positions fell 8.6 percent in April from a year earlier, compared with a 0.4 percent decline across all industries.
"Manufacturing has seen a steady decline in job openings throughout early 2019, following a similar trend seen in U.S. jobs," said Daniel Zhao, senior economist at Glassdoor in Mill Valley, California. "The ongoing trade dispute and tariffs are one likely reason employers in manufacturing have slowed hiring, instead waiting to see how things shake out."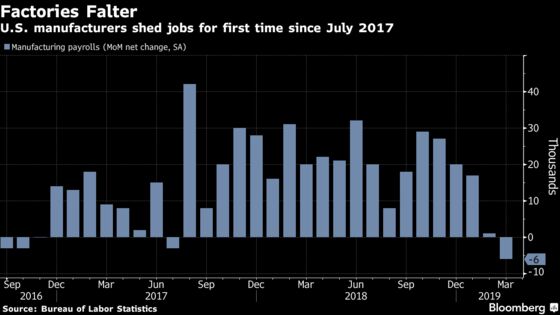 Sustained weakness in factory hiring would leave Donald Trump one less labor market boast. After a report in January showed manufacturing employment climbed by 264,000 last year for the best gain in two decades, the president tweeted that "it is only getting better."
Regional Federal Reserve surveys paint a less upbeat picture. Employment expectations components in the Philadelphia reserve bank's manufacturing survey fell this month to the lowest levels in two years while a similar measure for Kansas City was also near a two-year low. A measure for the Dallas region also weakened.
Friday's jobs report will show manufacturing payrolls grew by 10,000 after a 6,000 decline in March, according to Bloomberg's survey of economists. Job growth overall is seen holding up with an addition of 187,000 that would be just above the average of the past three months.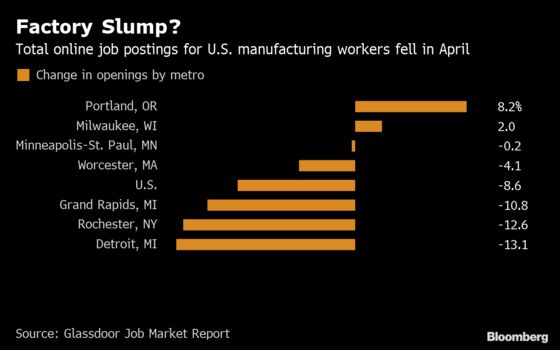 Among the 50 major U.S. cities with the highest share of manufacturing jobs, three-quarters have recently seen a slowdown in hiring, according to Glassdoor. Portland, Oregon and Louisville, Kentucky were among 12 with gains, each posting increases of around 8 percent.
And there are upbeat signs elsewhere. Snap-on Inc. Chief Executive Officer Nicholas Pinchuk said in a recent Bloomberg Television interview that the tool maker doesn't see weakness in manufacturing. "We are hiring people in the factories," he said.
The Labor Department's own measure of job openings will be updated May 7, though data are released with a lag. Openings fell in February by the most since 2015 while still exceeding the number of unemployed Americans, a sign of relaxation in the tight labor market.