Facebook Leads FAANGs in Defying Second Day of Stock Market Rout
(Bloomberg) -- Looking for silver lining in the stock sell-off? Try Facebook Inc.
On a day when the S&P 500 Index fell as much as 2.7 percent, the year's worst performer in the FAANG bloc spent only a half-hour in negative territory and closed with a gain of 1.3 percent. Facebook epitomized the relative strength exhibited by technology stocks on Thursday, a day after the group led the S&P 500 Index to its biggest loss since February.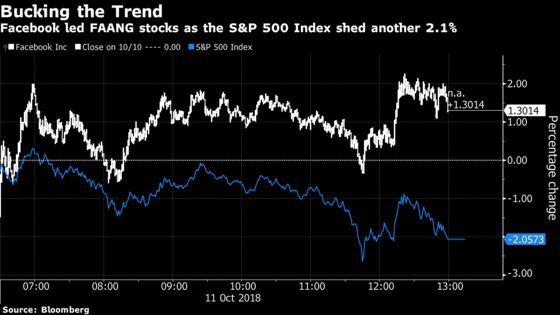 Communications and technology stocks in the S&P 500 were among the top three performing sectors, with declines of 0.8 percent and 1.3 percent, respectively. Snap Inc., Twitter Inc. and Advanced Micro Devices Inc. were among technology stocks that closed with gains.
Google parent Alphabet Inc. was little changed on Thursday, while Apple Inc. fell 0.9 percent, Netflix Inc. 1.5 percent and Amazon.com Inc. 2 percent.