Facebook Begins Labeling Voting-Related Posts, Including Trump's
(Bloomberg) -- Facebook Inc. is adding voting information labels to posts about the 2020 U.S. election, including those shared by President Donald Trump and Democratic candidate Joe Biden. The labels tell people to "get official voting info" and include a link to voting-related pages at usa.gov, a general information website run by the federal government.
Facebook announced the policy in late June -- a response to criticism that the company was not doing enough to combat election misinformation, particularly around voting. Facebook said it plans to append the labels to all posts about voting, regardless of accuracy. It's a strategy that allows Facebook to combat misinformation without having to explicitly identify it, which Chief Executive Officer Mark Zuckerberg has said he doesn't want to do with posts from politicians.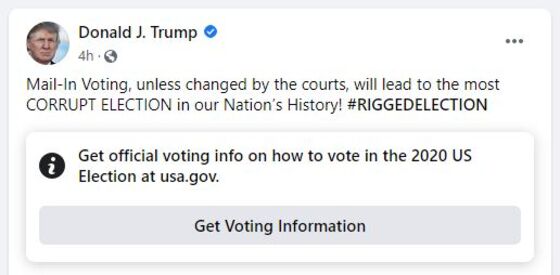 Labels first started appearing on posts this past Friday, according to a Facebook spokesperson. That includes this message from Trump: "Mail-In Voting, unless changed by the courts, will lead to the most CORRUPT ELECTION in our Nation's History! #RIGGEDELECTION," he wrote.
Biden, meanwhile, mentioned voting while seeking campaign donations. "Folks, it may be hard to believe, but we have just over 100 days until Election Day. I know we can beat Donald Trump and build this nation back better than before — but we need your help to do it," he wrote late Monday.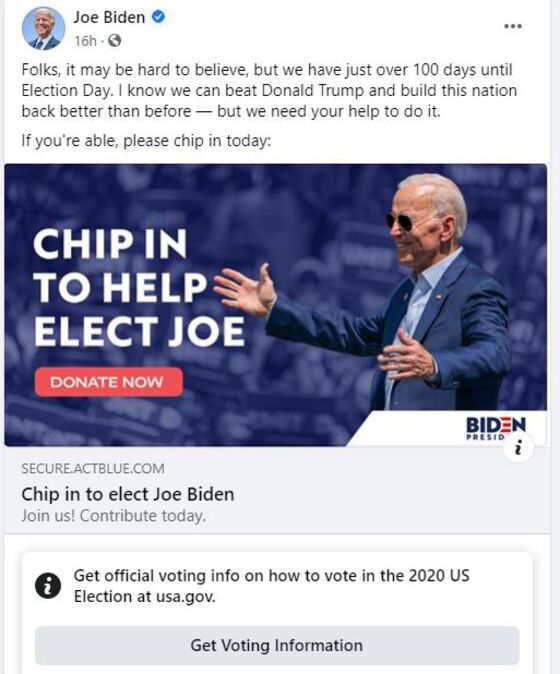 The labels first have also appeared on messages from other elected officials, including U.S. Senator Chuck Schumer, the Democratic leader from New York.