Exxon's Refining `Shocker' Puts Rockefeller Legacy in Doubt
(Bloomberg) -- Exxon Mobil Corp.'s worst refining performance in almost two decades may revive questions about the so-called integrated model engineered by founder John D. Rockefeller and espoused by every CEO in the company's 149-year history.
A surprise loss in a business line Exxon typically relies on to prop up more volatile units eroded first-quarter profit and cast doubt on the strength of the oil titan's comeback from its annus horribilis in 2018.
In the last decade, when other oil companies spun off refining businesses to concentrate on drilling for crude, Exxon steadfastly adhered to the wells-to-retail model. The refining loss is particularly stinging for Exxon Chief Executive Officer Darren Woods, who rose through the ranks of the fuel-making side of the company rather than the oil-exploration business of his chief competitor for the top job, Senior Vice President Jack Williams, and predecessor Rex Tillerson.
Exxon's structure "remains fundamentally strong," Williams said during a conference call on Friday. It's part of "our advantage versus the industry that's going to help us manage through this volatility."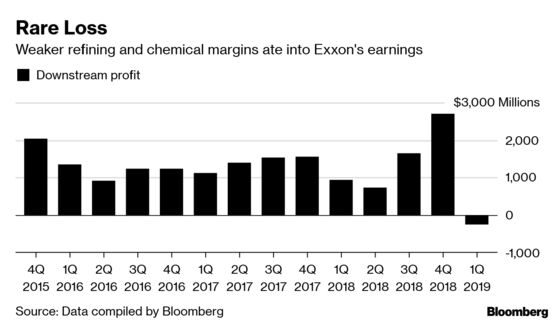 The company's fuel-making plants lost $256 million during the January-to-March period -- an average of almost $3 million a day -- as hefty stockpiles of gasoline squeezed margins and extensive repairs and mechanical overhauls slowed output. Exxon's chemicals business also disappointed investors with a 49 percent slump in profit.
Exxon appeared to be "turning a corner," RBC Capital Markets analyst Biraj Borkhataria said in a note to clients titled 'A downstream shocker.' "Clearly, the corner is further away than we expected and we expect this to lead to underperformance in the near term."
The shares slumped 2.5 percent to $80.20 at 9:43 a.m. in New York after earlier slipping as much as 4.7 percent. Exxon's disappointing refining and chemical results overshadowed booming crude output from wells in the Permian Basin of West Texas and New Mexico. Daily, worldwide production increased 2.4 percent to the equivalent of 3.98 million barrels from a year earlier, aided by an almost 140 percent surge in Permian output.
Per-share earnings were 55 cents, compared with the average estimate of 72 cents in a Bloomberg survey of analysts. The last time Exxon's refineries lost money was 2009 and the first-quarter showing was the worst in data going back to 2001.
Woods' effort to improve relations with the analyst community by providing pre-earnings guidance is off to a rocky start. After two straight quarters when estimates missed the mark by 20 percent or more, Williams, a member of the CEO's inner sanctum of top lieutenants, vowed on Friday to improve the company's disclosures.
Prior to Friday's announcement, Wall Street expectations for Exxon had been brightening as the oil giant attempted to rebound from a disastrous first half of 2018, during which oil and gas production reached the lowest in a decade.
What Bloomberg Intelligence Says

"Exxon Mobil's disappointing 1Q results may not get much help in 2Q, with large turnarounds, a still-weak environment for Chemicals and, to a lesser extent, Refining. Exxon will likely continue to outspend its organic cash from operations, as it seeks to rebuild its growth portfolio. This will preclude buybacks in 2019 and is likely to lead to higher leverage, as these projects won't reach positive free cash flow until the early 2020s."

--Fernando Valle, industry analyst
Click here to view the research
Exxon is the least-loved of the supermajor oil stocks, with just 30 percent of analysts who follow the company recommending investors buy. France's Total SA is top of the list with 84 percent of analysts urging buy, followed by Chevron Corp., BP Plc and Royal Dutch Shell Plc. Of all of those, Exxon is the only one below the 50 percent mark.
Chevron also reported weaker refining results on Friday: earnings in the business fell 65 percent to $252 million from a year earlier. The California-based oil giant cited lower margins on fuel sales and inclement weather at West Coast refineries. Chevron share were little changed at $117.74.