Exxon, Chevron Punished by Shareholders as Profits Disappoint
(Bloomberg) -- Big Oil investors showed Friday they're not much interested in grand investment projects for the future. It's all about putting money back in their pockets now.
Exxon Mobil Corp. and Chevron Corp. followed divergent paths in reporting second-quarter earnings, and investors took note. They gave a nod of approval to Chevron's $3 billion stock buyback announcement, and punished Exxon for reporting inferior results with no plans for a payout by wiping $11 billion off its market value.
Both companies fell short of analyst estimates for profit, but Chevron rose in New York trading to be the best-performing oil producer in the S&P 500. Meanwhile, Exxon plunged as much as 4.1 percent after it cut its full-year production target to the equivalent of 3.8 million barrels of crude from last year's 4 million barrel output.
Exxon's plan to spend more than $200 billion to 2025 on new projects "might be the right thing for the business but that doesn't mean it's the right thing for the stock for the next 12 months," Jason Gammel, a London-based analyst at Jefferies LLC, said by phone. Investors want "stable earnings and cash flow performance and returning cash to shareholders."
Exxon, which has prioritized big project investment in Latin America and elsewhere, failed to live up to earnings, cash flow, debt and output expectations, reporting net income of $3.95 billion compared with expectations of $5.35 billion. In explaining the lower production estimate, Senior Vice President Neil Chapman said the figure took into account earthquake damage in Papua New Guinea that interrupted natural gas output.
"It's not a big deal but it's important to highlight what it is," Chapman said during a conference call with analysts. "We're not focused on volumes. We're focused on value."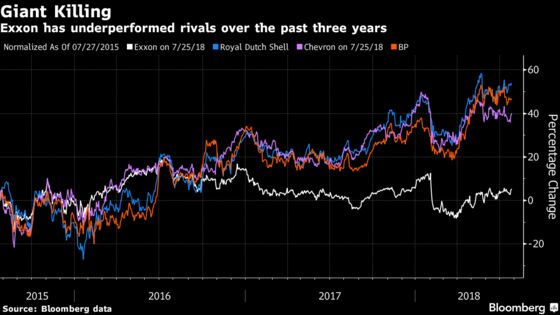 Both companies failed to fully capitalize on a Brent crude price that was almost 50 percent higher than a year earlier.
Exxon produced the equivalent of 3.6 million barrels of oil in the second quarter, well short of the 3.83 million expected by analysts, the Irving Texas-based company said in a statement. Maintenance and repairs at undisclosed oil fields more than offset output gains from U.S. shale and offshore Canadian assets, the company said.
Exxon's results also took a hit from prolonged refinery repairs that hurt the company's ability to cash in on swelling margins from processing oil into fuels, Chapman said.
"We're not happy with the reliability performance" of Exxon's refining fleet, said Chapman, a member of the 4-person management committee that oversees day-to-day operations along with CEO Darren Woods. There's no "underlying deteriorating performance" issues.
Chevron, meanwhile, reported earnings of $3.41 billion, compared to a $3.94 billion forecast. And its $3 billion buyback announcement fell short of a similar announcement by Royal Dutch Shell Plc a day earlier.
Chevron stock reversed earlier declines as Chief Financial Officer Pat Yarrington said the buyback isn't a one-off and could be added to in the future. "We do want this to be a sustainable element here," she said on a call with analysts. "There might be a bit of conservatism in here in how we started."
The European explorer said it plans to repurchase $25 billion in total, though it only officially announced an immediate buyback of $2 billion in reporting its earnings on Thursday. Shell, too, reported earnings that fell short of analyst estimates.
There was a bright spot, though, for both Exxon and Chevron: The Permian Basin of West Texas and New Mexico.
Exxon increased production there by 45 percent compared with the previous quarter. The company is currently operating 34 rigs in the region, four more than its year-end target. Chevron increased production from its Permian wells by more than 50 percent from a year earlier.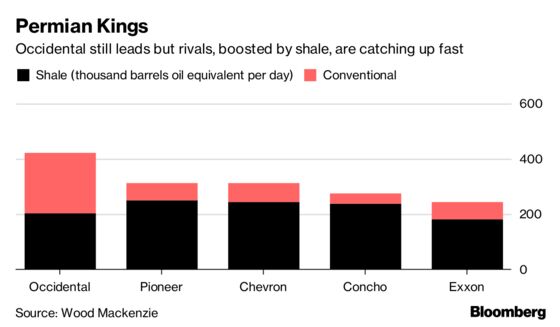 Before today's updates, Chevron was the third-largest producer in the Permian and Exxon was fifth, according to researcher Wood Mackenzie Ltd.
Chevron Chief Executive Officer Mike Wirth, who took over the top job in February, has said the company should not just survive at $50-a-barrel oil but deliver good profits at that level.