Extended China Factory Shutdowns to Hurt Indian Production Lines
(Bloomberg) -- Terms of Trade is a daily newsletter that untangles a world threatened by trade wars. Sign up here. 
Shares of TVS Motor Co. tumbled as much as 6.7% on Tuesday after India's third-biggest two-wheeler maker said that a shortage of some parts imported from China may lead to a drop in production this month.
TVS isn't alone. Swathes of Indian businesses that import raw materials from China are bracing for a hit from the coronavirus outbreak that has shuttered plants that feed the global supply chain with all sorts of industrial components.
While India has so far reported only three confirmed cases, compared with over 82,000 globally, prolonged disruption in raw-material supplies can delay a recovery in India's economy -- set for its weakest growth in 11 years. Shifting overnight to suppliers elsewhere in Asia isn't feasible and airlifting parts for transport will bump up the cost of components, according to ICICI Direct.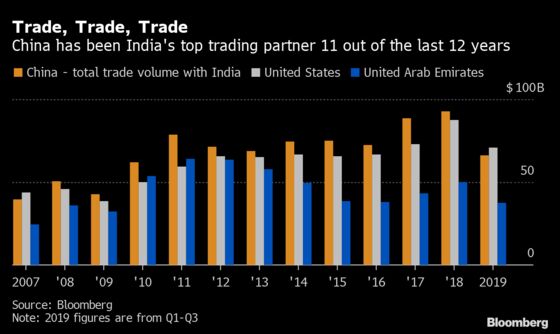 To be sure, there will also be some winners from the coronavirus crisis. Textiles, fertilizers, oil refiners and other users of global commodities will benefit from the softening in their prices, according to Nomura and Citi Research. Producers of the basic ingredients used in medicines are expected to gain from the rise in their prices, according to Emkay Global Financial Services.
Here's what some brokerages are saying:
March quarter is unlikely to see an immediate impact as vendors stocked-up on inventory ahead of Chinese Lunar New Year holidays
Prolonged shutdown will severely impact sales of air-conditioners, LEDs, fans and kitchen appliances, which will been seen in the April-June quarter
Alternatives in Thailand, Malaysia, Vietnam unprepared to meet challenge of sudden demand; airlifting parts will boost cost of components and finished goods by 5%-6%
China accounts for about 14% of India's imports; disruption will lower import of primary and intermediate goods, hurt domestic production
Over 60% of Chinese shipments to India comprise electrical machinery and equipment and organic chemicals, with an additional 7% in the form of plastic articles and fertilizers
Pharmaceuticals, autos, electronics, solar and agriculture among sectors to be hurt
Gainers include textiles, fertilizers and mid- and small-sized firms that would face less competition from Chinese imports
Peak summer sales could be at risk if the delay in part supplies persists beyond February
Chemicals and agro-chemical companies like Dhanuka Agritech Ltd., Rallis India Ltd., Vinati Organics Ltd. and Camlin Fine Sciences Ltd. appear vulnerable

Tata Motors Ltd. and Motherson Sumi Systems Ltd. may be hurt in autos; Oil & Natural Gas Corp. earnings may be impacted due to lower crude prices

Lower oil prices to benefit companies like Asian Paints Ltd., Pidilite Industries Ltd. and Apollo Tyres Ltd.

Lower LNG prices to help Gujarat Gas Ltd., Gujarat State Petronet Ltd., among others; Divi's Laboratories Ltd. and Granules India Ltd. to gain from expected rise in API prices
India's direct vulnerability to coronavirus outbreak, beyond supply chains, is limited

Manufacturing sector accounts for less than one-fifth of India's real GDP

Support from monetary policy side may come if needed as fiscal space remains constrained
Electronics, electrical machinery, chemical, pharmaceutical and textiles are most vulnerable sectors

Electronic goods imported from China, including mobile phones, are mostly sold by unlisted companies
Coronavirus outbreak to have limited macroeconomic impact on India
There could be "serious consequences" for companies in textiles and electronics, which respectively import a third and half of intermediate goods from China

It will be difficult for these sectors to source goods from other suppliers immediately