Experience Trumps Youth in Battle for Nigerian Presidency
(Bloomberg) -- The election to lead Nigeria, Africa's most populous and one of its most youthful nations, will come down to a battle between a pair of experienced septuagenarians: President Muhammadu Buhari and businessman-cum-politician Atiku Abubakar.
While former Vice President Abubakar, 71, easily saw off younger challengers including Sokoto state Governor Aminu Tambuwal and Senate President Bukola Saraki at the weekend People's Democratic Party convention in the oil hub of Port Harcourt, the 75-year-old Buhari was nominated unopposed by his ruling All Progressives Congress. Both men have been fixtures of the political scene since Nigeria returned to democracy almost two decades ago.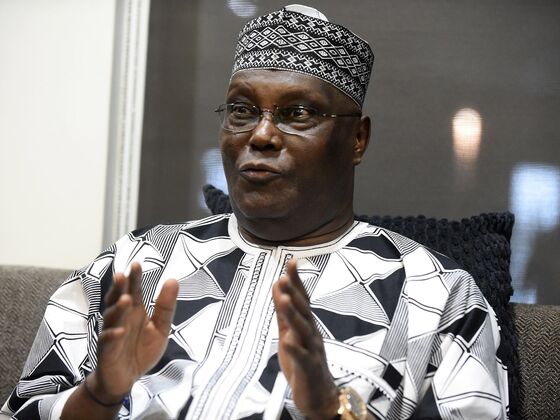 The campaign is likely to be a barefisted affair fought on the themes of Buhari's alleged incompetence and accusations by the president's camp that there is something corrupt about the way Abubakar has acquired his vast wealth. Abubakar will seek to win votes in Buhari's northern base, while claiming parts of the south and center where the president is less popular. Both men are northern Muslims in a nation roughly equally divided between Christianity and Islam.
"Atiku will definitely capitalize on the economy as his main campaign talking point. Buhari's record on the economy is seen as pretty poor," said Cheta Nwanze, an analyst at Lagos-based business advisory firm SBM Intelligence. "Buhari will double down on his message against corruption, and his campaign will continue portraying Atiku as a corrupt individual."
Both men must propose workable policies to give the more than 50 percent of the population under the age of 30 a fighting chance to participate in the economy. The West African nation's education system has been gutted by corruption, a lack of investment that leaves children without books and desks and the flight of qualified instructors abroad and to private sector jobs.
"We've enumerated the challenges faced by the country over and over. What we need to do is to proffer solutions," Abubakar said Sunday in his acceptance speech. "That is what will make us different from the clueless government of the APC."
Abubakar pillories Buhari's handling of the economy, which is having an anemic recovery from a recession two years ago, and calls for the privatization of the oil industry. He also favors greater regional autonomy, scrapping the system of multiple exchange rates and increasing spending on education.
Investors blame Buhari for worsening a recession that resulted from an oil-price drop two years before he took office and deterring investment by imposing capital controls. He also urged the central bank to refrain from weakening the currency, the naira, which it was eventually forced to do.
"Buhari did not cause the economic downturn -- the economic downturn was handed over to him, and partly because he was slow in response, the economy went into recession," said Bismarck Rewane, chief executive officer of Lagos-based Financial Derivatives Co. "He misdiagnosed the problem initially and was slow at acting."
Buhari, in turn, will push the corruption button. While his anti-graft campaign has drawn fire from critics for targeting mainly his political opponents, he's pressed ahead with it, saying his administration has claimed illicit cash stashed abroad and invested it in infrastructure projects.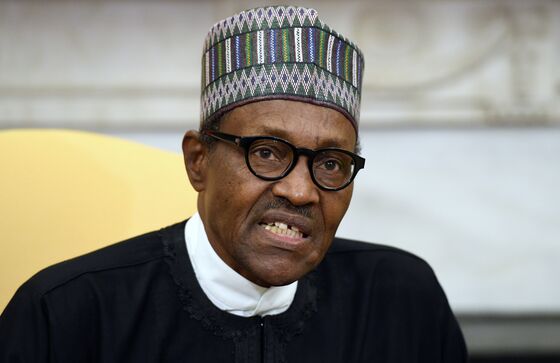 Abubakar is considered one of the richest people on Nigeria's political scene. A former top customs official, he later became a major shareholder in Intels Nigeria Ltd., an oil-service company. To carry the vote, he will have to convince the electorate that allegations of graft, which opponents have used to explain his fortune, are untrue. He's denied any wrongdoing.
"A lot of people are rating him as the strongest against Buhari; I'm not so sure," Amaka Anku, the head of Eurasia Group's Africa Practice, said in an emailed response. "He represents the past, and has no real raison d'etre, and is the weakest on Buhari's strongest suit: integrity."
Buhari is vulnerable too. Early in his presidency, the security forces scored some gains against Islamist militants in the far northeast. But in recent months, a breakaway group, Islamic State West Africa, has stepped up its attacks in a conflict that's claimed tens of thousands of lives and left more than 800,000 people cut off from aid in Borno state, according to the United Nations.
While Buhari in June signed the nation's biggest-ever budget of 9.1 trillion naira ($25 billion) for this year, and increased investment in roads, rail, ports and power to boost the economy, it probably won't have much impact before the Feb. 16 vote. Economic growth slowed for the second consecutive quarter as oil production fell.
"I think both Buhari and Atiku are experienced and have something to offer the country," said Rewane. "The problem is how to convert that into action to effectively deal with the challenges at hand.''
Saraki, the senate president and the country's third highest ranking politician, threw his weight behind Abubakar after the PDP election and promised and that the party would remain united in its quest to unseat Buhari.
"Those who expect that the party will degenerate into crisis after the primaries have miscalculated," he said in an emailed statement. "We will all work for the Atiku-PDP ticket."