Exaggerated Moves Are Here to Stay Until Labor Day: Taking Stock
(Bloomberg) -- S&P 500 futures are slightly higher (tell me if you heard that one before) on a relative dearth of major news and global market moves. The big must-know earnings so far are in retail, with Tiffany climbing points on a comp sales beat while Best Buy is off more than 5 percent on a weak earnings forecast.
In today's edition of "What's the President Tweeting Now," it appears as though Trump is getting a bit more specific about which individual market indices are smashing records -- for example, this morning he touted the fact that the Nasdaq rose above 8,000 for the first time ever versus his usual "Stock market hits all time high"-type observations, which he used twice in separate tweets this past weekend. I welcome the granularity and await future comments about small caps (Russell 2000 hit a record Monday), the transports (TRAN is getting closer) and the momentum ETF (MTUM also surged to an "all time high").
More importantly, the President is also lashing out this morning against censorship from big tech. Shares of Alphabet aren't reacting in early trading to his tweets about how Google's algos are "RIGGED" in capital letters, with one saying that "Google search results for 'Trump News' shows only the viewing/reporting of Fake New Media" while another said that "Google & others are suppressing voices of Conservatives and hiding information and news that is good."
This is a drum that he's been banging more as of late, where just even last week he talked about how the social media giants (not just Google) are "silencing millions of people." He ended today's rant by noting that this is a serious situation that will be addressed, so something tells me we'll be hearing more on this topic in the coming days and weeks.
Slamming Through Resistance
The hash marks of expected resistance for the S&P 500 continue to move upwards ever since we climbed atop 2,800 in mid-July, muscled through 2,850 last week, closed above the January record of 2,873 on Monday, and now we're set to test the whole number at 2,900. Equity strategists, many of which already had their year-end targets above the January record, are scrambling to tweak their models higher to keep up with the velocity of the latest leg-up in tape.
As for Monday's session, it was the trade proxies that caught a tailwind from the developments related to Nafta -- GM and Kansas City Southern both ran up almost 5%, while even those more closely associated with the China trade war, like Caterpillar and Boeing, shined.
Meanwhile, the semiconductors continue to relief rally, with the SOX recouping almost every downtick from the prior eight sessions (see chart below), even though Morgan Stanley continues to pound the table on their recent cautious call. Recall that it was the firm's sector downgrade from over two weeks ago that was the initial catalyst to take the group lower.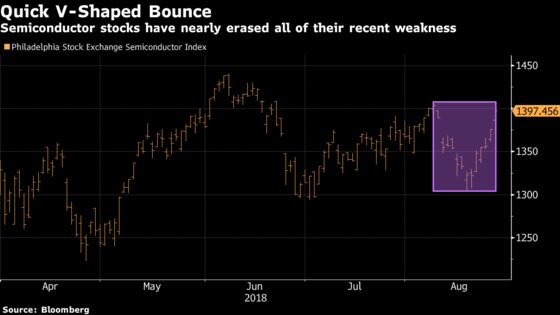 The first day of the last week of August has brought about some exaggerated moves without concrete reasoning, or perhaps the reasons attributed by some market participants were met with skeptic eyes from others. I'd assume that much of this is a factor of lesser-than-usual liquidity given end-of-August seasonality -- though volumes in some parts of the market are absurdly high for this time of the year.
Just look at what happened to Advanced Micro Devices, which is the top performer in the S&P 500 this year. Shares of the chip darling surged to 14% at the peak of Monday's session, and up more than 30% in the past three days, only to reverse by more than 7% in the afternoon. Volume has exploded recently and the stock is now well in overbought territory.
Others with amplified moves include the high-flying IPOs of yore (Huya, Iqiyi, Zuora, Zscaler, and new contender Pinduoduo), which arguably could have been seen as read-across from the Chinese supporting the yuan, except for the fact that not all of these are based in China.
Plus we saw some multi-billion dollar market cap weed names like Tilray and Cronos Group soar ~21% while retailers from Fossil Group (down almost 10% on a paltry amount of insider share sales?) to GameStop (cratering >11% on speculation of buyout concerns?) plunging seemingly out of nowhere. Expect more of the same over the next four days as the long slog before the Labor Day holiday presses on.
Notes From the Sell Side
BofAML has a big note out on the semiconductor capital equipment space, downgrading both Lam Research and Applied Materials to hold from buy and trimming its wafer fab equipment outlook for 2018 to +7% y/y from prior +10%: "Most companies guided for a trough in Sep/OctQ followed by a return to growth starting in Dec/JanQ, but in our view it still remains unclear when spend will start to reaccelerate in earnest – we don't expect YoY growth to accelerate until at least 2H19."
Morgan Stanley expects an above average dividend boost by Microsoft in mid-September to act as a positive catalyst for shares. The firm says that the company has announced a quarterly dividend boost of 3c-5c (or between 8%-25%) on the third Tuesday of the month for the past eight years, though that falls on Yom Kippur this year.
Morgan Stanley is also out upgrading a couple of household product stocks to overweight, including Estee Lauder ("growth not priced in after stock pullback") and Coty ("after two years of significant negative revisions, we now see scope for topline stabilization and synergy-led margin progression to drive above-consensus EBIT").
BTIG is lifting its price target on Salesforce.com to $175, or close to the most recent Street-high established last week by BofAML at $181, ahead of tomorrow's earnings report. The analyst cites top-line growth prospects that "continue to defy logic" and expects significnat upside to Street estimates despite tougher comps and minor FX headwinds.
Tick-by-Tick Guide to Today's Actionable Events
Today -- Jefferies hosts a semiconductor, hardware and communications infrastructure summit (day one)
Today -- Seaport hosts an energy and industrials conference with presenters such as GDP, KSU, MIDD, SLB, SLCA
7:00am -- BBY, DSW earnings
7:30am -- HAIN earnings
7:30am -- FANH hosts call to respond to short seller report
7:45am -- CTLT earnings
8:00am -- BBY earnings call
8:00am -- NTLA investor meeting
8:30am -- Wholesale & Retail Inventories, Advance Goods Trade Balance
8:30am -- TIF, DSW earnings calls
8:40am -- SXI earnings (roughly)
9:00am -- S&P Case-Shiller Home Price Index
9:00am -- HSY analyst event
10:00am -- Richmond Fed, Conference Board Consumer Confidence
4:00pm -- TLRY earnings (roughly)
4:05pm -- HPE, BOX, SCVL earnings
4:15pm -- HRB, OOMA, NCS earnings
4:30pm -- API oil inventories
4:30pm -- HRB earnings call
5:00pm -- HPE, BOX earnings calls
5:00pm -- FireEye CEO Kevin Mandia on Bloomberg TV