VW's Former CEO Charged in Germany Over Diesel Rigging
(Bloomberg) -- Former Volkswagen AG head Martin Winterkorn was charged with serious fraud in Germany for his role in the diesel-rigging scandal that rocked the carmaker and cost it about 29 billion euros ($33 billion).
The former chief executive officer was accused alongside four other managers of equipping vehicles sold to customers in Europe and the U.S. with a so-called defeat device, authorities in Braunschweig said Monday in an emailed statement. Fraud charges carry a sentence of as long as 10 years, and prosecutors also want to seize bonuses paid to the five men, which ranged from 300,000 euros for some managers to about 11 million euros for Winterkorn.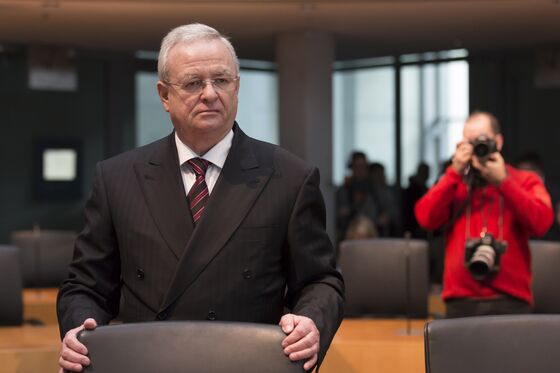 Allegations that VW wrongfully withheld information about the emission software used in its diesel cars have loomed over the company since the scandal first broke in 2015. The crisis involved as many as 11 million diesel cars worldwide, and shattered the Wolfsburg-based company's reputation.
Winterkorn's lawyer Felix Doerr said prosecutors haven't given him full access to their files. Unless all information is disclosed to him, he said, he can't comment on the charges.
The 71-year-old former CEO is also charged with breach of trust because of his failure to swiftly tell authorities about the devices, bringing higher fines for the company.
Winterkorn will join a group of other top executives who have stood trial in Germany if the case proceeds.
Josef Ackermann, when he was CEO of Deutsche Bank AG, was tried in 2004 in relation to his role in the Vodafone Group Plc takeover of Mannesmann AG. The case was settled after an initial acquittal was overturned on appeal. About a decade later, Ackermann was on trial again, this time alongside then co-CEO Juergen Fitschen over the collapse of the Kirch media company. Both were acquitted. Wendelin Wiedeking, the former Porsche head who was tried for market manipulation over a failed bid to acquire VW, also won his case.
Winterkorn's fate may soon be shared by former Audi CEO Rupert Stadler, who is being investigated by Munich prosecutors who kept him in detention for four months.
The shares of VW rose 1.70 euros, or 1.1 percent, to 158 euros at 3:38 p.m. in Germany, up from a 12-month low of 129.60 euros in October.
VW itself settled with Braunschweig prosecutors in June, paying a fine of 1 billion euros. The company can't comment on the cases of the individuals being charged now, VW spokesman Nicolai Laude said in an e-mail.
The defeat device was used "to seemingly meet tightened emission standards for diesel cars and preserve market shares for VW or even increase them for the benefit of the company and the accused themselves," prosecutors said. "The illicit defeat device was continuously developed and further refined."
The five are the first to be charged in Germany over the rigging. Prosecutors didn't identify the four other executives. Winterkorn and other company leaders were indicted in the U.S. in 2017.
The Braunschweig Regional Court now has to decide whether the charges will go to trial. The judges will review the 692-page long indictment as well as 75,000 pages of files, according to the statement. The probe against additional 36 suspects continues.
While the actions of some of the men dates to 2006, Winterkorn was informed about the scam in May 2014, according to prosecutors. Six months later, he condoned a "useless" update of the vehicles' computer software to help further veil the scam.