Ex-UAW Chief Is Charged With Conspiracy in Corruption Probe
(Bloomberg) -- Former United Auto Workers president Dennis Williams was charged in a long-running probe of corruption at the labor union that has already netted more than a dozen convictions.
The charges, brought by federal prosecutors in Detroit, come almost exactly a year after the Federal Bureau of Investigation searched the homes of Williams and his successor, Gary Jones, who pleaded guilty in June to embezzlement and racketeering, making him the highest-ranking former union official to admit a role in a scheme to steal more than $1 million in dues.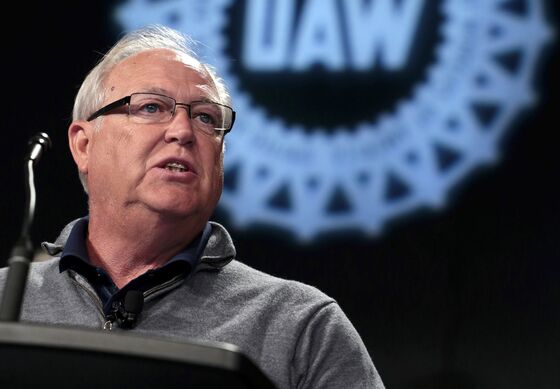 Williams, 67, of Corona, California, served as president of the union, which represents more than 400,000 active members and more than 580,000 retired members in more than 600 local U.S. unions, from June 2014 to June 2018. He was secretary-treasurer from June 2010 to June 2014. He faces a maximum of five years in prison and a $250,000 fine if convicted.

Williams and other UAW officials are accused of scheming to hide hundreds of thousands of dollars worth of personal spending by submitting forms for expenses supposedly incurred in connection with union leadership and training conferences in Palm Springs, California; Coronado, California; and Missouri. In reality, prosecutors said, they used the money to pay for stays at Palm Springs villas, cigars, high-end liquor, meals, golfing apparel and greens fees.
Jones was the 14th defendant to be convicted in the sweeping U.S. investigation into embezzlement and illegal payoffs to union executives by officials of Fiat Chrysler Automobiles NV. Alphons Iacobelli, who led U.S. labor relations for the automaker until June 2015, admitted he had diverted more than $1.5 million in prohibited payments to UAW officials and representatives. Iacobelli pleaded guilty and was sentenced in 2018 to 5 1/2 years in prison.
"Any violation of Mr. Williams' oath of office and his responsibility to oversee our members and their sacred dues money, should rightfully face criminal penalty," the UAW said in a statement. "Today's development is a sad day for UAW members. But it is also a humbling day of truth and justice demonstrating that no one is above the law, regardless of their position."
Williams, arguably the most prominent union leader to face prosecution in the probe, was charged just weeks after General Motors Co. alleged that he received funds from Fiat Chrysler to place former UAW vice president Joe Ashton on GM's board. The accusations came as part of a lawsuit by GM alleging that Fiat Chrysler got better contracts than competing automakers by bribing union officials. Ashton has pleaded guilty and is awaiting sentencing.
The UAW has rolled out several reforms in the wake of the scandal, including appointing former Obama-era National Labor Relations Board Chair Wilma Liebman as ethics officer, starting a hotline for union members to report misconduct and putting up for sale a $1.3 million house that had been built for Williams in northern Michigan.
Facing a threatened government takeover of the union, new president Rory Gamble met with Detroit U.S. Attorney Matthew Schneider in June to begin discussions about ethics reforms, including the possible appointment of an independent monitor to prevent future corruption. Similar monitors at the International Brotherhood of Teamsters stepped back in February after more than three decades.
Read More: Fiat Says GM's Lawsuit Reads Like 'Third-Rate Spy Movie' Script
Williams received significant funds in bank accounts in Switzerland and Liechtenstein to help increase costs to GM through the 2015 collective bargaining agreement and push it into merger talks with Fiat Chrysler, according to GM's suit. Fiat Chrysler has dismissed GM's claims as groundless.
GM cited the alleged payments to Williams as new evidence while asking a federal judge to reconsider his decision to dismiss its suit against Fiat Chrysler. The judge, who threw out the case in July, denied that request on Aug. 14. GM has appealed.
Attorneys for Williams haven't responded to emails and voice-mails seeking comment. The former president was charged in an information, which usually precedes a guilty plea. Gina Balaya, a spokeswoman for Schneider, didn't respond when asked if Williams intends to admit to any crimes.
The case is U.S. v Williams, 20-cr-20382, U.S. District Court, Eastern District of Michigan.