Ex-UBS Official Admits 'Partial Lies' About Trader, Burner Phone
(Bloomberg) -- A former UBS Group AG compliance officer on trial for insider trading admitted to more "partial lies" under questioning from a prosecutor for the U.K.'s financial regulator.
John McGuinness, the lead prosecutor for the Financial Conduct Authority, suggested on Wednesday that Fabiana Abdel-Malek lied several times when she was interviewed after her arrest in September 2015. Abdel-Malek, 36, testified Tuesday that she'd lied about using a burner phone to communicate with a day trader, Walid Choucair, because she panicked.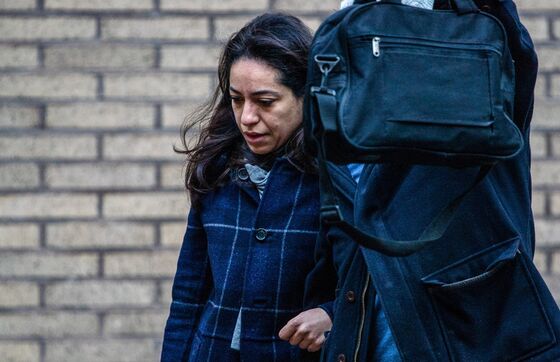 McGuinness said that she not only lied about her use of pay-as-you-go phones, but also about Choucair's use of the burners. She deceived investigators about what Choucair knew about her job and what she knew about his, the prosecutor said. Abdel-Malek admitted that she didn't give a full picture, which at times amounted to partial lies.
"I wanted to protect myself," Abdel-Malek told the jury in response to a question about Choucair's use of burner phones. "I was worried about my job. I think it was a partial lie. Yes it was inconclusive about what I actually knew."
Abdel-Malek and Choucair each face five counts of insider dealing between June 2013 and June 2014. The prosecution alleges that Abdel-Malek accessed information about the deals on an internal bank database and shared them with Choucair. Both deny the charges.
In her initial interview, Abdel-Malek said she didn't know what Choucair did for a living, though she now accepts that she knew he was versed in financial markets and traded.
McGuinness said that Abdel-Malek had been dishonest about how much she communicated with Choucair in December 2013, close to one of the deals in the case. She said that at the time of her arrest almost two years later, she was no longer in touch with Choucair, explaining the reason for her answer.
"In the context of 2013 it was a lie," McGuinness said.
"Yes, but I must say that what I was being asked and what was going through my head was not always parallel," Abdel-Malek responded.
"But do you accept you lied then?"
Abdel-Malek also said that although she took advice from Choucair about whether to take a job offer from Goldman Sachs Group Inc. and that he knew she worked in fixed income, she didn't think she told him that she was in compliance.
McGuinness said Abdel-Malek accessed confidential UBS records containing price sensitive information, and, with the document still open, would exchange text messages with Choucair.
"I'm entitled to use my phones at my desk," Abdel-Malek said. "I'm very good at multi-tasking. I can be on a call and on my personal phone and drafting an email all at the same time. It's what I'm good at."
McGuinness also said Abdel-Malek lied about meeting Choucair on a day she had printed price sensitive information. While she said she'd met with him the day before, McGuinness said she met with him after making the print-out. He then called his broker to buy shares that would benefit from the transaction.
Nicole Scherzinger Sighting
Abdel-Malek said her relationship with Choucair was entirely social, with him inviting her, her sisters and her friends to Tramp, a small Mayfair club where he was a member.
McGuinness said that Choucair lived a "glamorous" life and her friendship with him allowed Abdel-Malek access to that world. On one occasion, she said, she was excited enough about seeing singer Nicole Scherzinger at Tramp, that she messaged her sister about it when she left in the early morning.
Choucair "was very modest about his wealth," Abdel-Malek said. "He was generous. Whether it was Tramp or a simple coffee, he always paid."