Ex-TPG, Macquarie Dealmakers Launch $1.4 Billion Cash Bid for Australia's Navitas
(Bloomberg) -- Former dealmakers at Macquarie Group Ltd. and TPG Capital launched a cash bid for Navitas Ltd. in a deal valuing the Australian education services provider at A$1.97 billion ($1.4 billion). Navitas shares soared.
Private-equity firm BGH Capital teamed up with AustralianSuper Pty, the nation's largest pension fund, and former Navitas Managing Director Rodney Jones to make the A$5.50-per-share offer, which is 26 percent higher than yesterday's closing price, according to a statement Wednesday.
For more details on the deal, click here
The proposal comes just six months after BGH and AustralianSuper's failed bid for Healthscope Ltd. BGH was founded last year by Robin Bishop, the former head of Macquarie's investment banking operations in Australia and New Zealand, and former TPG Capital partners Ben Gray and Simon Harle.
Before today's offer, shares in Navitas, which provides educational services to more than 80,000 students a year in 31 countries, had sunk 44 percent from a mid-2014 high of A$7.81 as regulatory constraints in the U.S. hampered the business. The stock jumped 21 percent to A$5.27 at 10:10 a.m. in Sydney.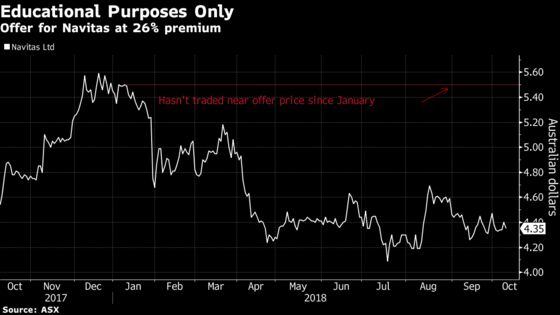 AustralianSuper already owns 5.4 percent of Navitas, while Jones has a 12.6 percent stake, according to the statement. Under Wednesday's proposal, shareholders can alternatively choose A$2.75 per share in cash and one share in a newly formed unlisted company for every two Navitas shares they own.
Jones, a co-founder of Navitas, said he expects to remain a non-executive director should the deal succeed.
"I believe this is a fair and equitable deal, struck at an appropriate premium to Navitas' prevailing share price, and is in the best interests of all Navitas shareholders," Jones said in a statement.