Ex-Tencent Veteran Raises $120 Million Fund to Bet on Next Zoom
(Bloomberg) -- China's technology sector has had breakout successes in e-commerce, social media and smartphones. Venture capitalist Peter Cheng is betting the next big opportunity will be in enterprise software, with local alternatives to the likes of Oracle Corp. and Salesforce.com Inc.
His Eminence Ventures has raised $120 million for its second fund, with backing from Silicon Valley's Emergence Capital and Hong Kong's Unicorn Capital Partners. Eminence, founded in 2017, has fully invested its first fund -- $37 million raised from dozens of individual investors.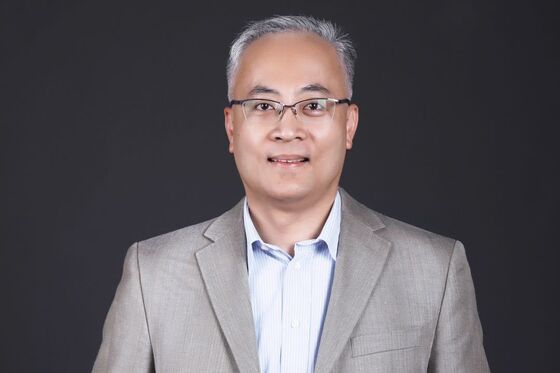 Cheng's experience in the corporate software sector dates back 25 years to a stint at Oracle, followed by jobs at eBay Inc. and Tencent Holdings Ltd. That helped convince him the sole focus for his venture firm should be startups aspiring to be the next Salesforce or Zoom Video Communications Inc. for China, a nascent $12 billion arena. Some of his startups have already seen their valuations balloon after receiving money from larger venture firms like Sequoia and Temasek, as well as Jack Ma's Ant Group Co.
"If you keep looking at a sector again and again, when the right deal comes along, you know it's the right one," the 51-year-old Cheng said in a video interview from his offices in Shanghai.
Jason Green, founding partner of Emergence Capital, said Cheng is uniquely positioned to capitalize on the startup opportunities in China. Emergence has also seen the potential in corporate software, hitting the jackpot with an investment in Zoom as its business exploded during the Covid-19 lockdowns.
"In China, like in the U.S. over the last 15 years, we're going to see massive shifts into the cloud for enterprises," said Green. "Like me, Peter is very much focused on wanting to be the world's best in early-stage enterprise."
Green said his firm will seek to co-invest in Chinese cloud services startups with Eminence Ventures.
China's enterprise software-as-a-service market is expected to grow around 40% annually over the next five years and reach $40 billion in revenue in 2025, according to estimates by JPMorgan. Cloud services are among the fastest-growing businesses for giants like Tencent and Alibaba Group Holding Ltd., while up-and-comers like Tuya Inc. and Agora Inc. have in recent years raised billions in U.S. listings.
But the world's largest internet market has yet to create its own Zoom, which in less than a decade has grown into a $2.7 billion business that supplies the go-to communication software for nearly half a million businesses around the world.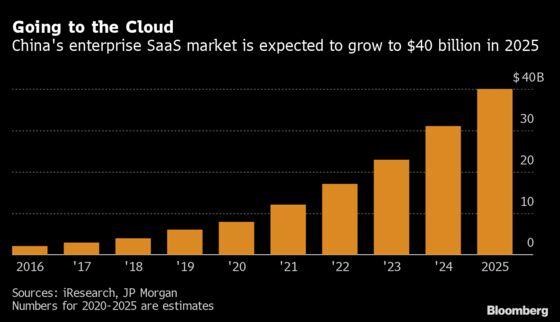 Cheng aims to change that. Eminence Ventures invested its first fund in 17 startups focused on a wide range of enterprise software. None of these outfits has been written down, and his biggest hit is eSign, which provides electronic signature services to business and government clients. The Hangzhou startup has reached unicorn status with pre-money valuation surging 12 times since Cheng made his first bet in early 2018, he said. Deeper-pocketed backers including Ant and the state-run Shenzhen Capital Group invested in later rounds.
| Eminence Portfolio | Sector | Other Investors | U.S. Equivalent |
| --- | --- | --- | --- |
| eSign | Electronic signature | Ant, Shenzhen Capital, Fortune Capital | DocuSign |
| Duckbill | Cargo container trucking | Temasek, Shunwei Capital | Next Trucking |
| Recurrent | AI voice bot | GSR Ventures, ZhenFund, Sequoia China | ASAPP, Chorus.ai, Gong.io |
| Tezign | Online designs | Temasek, Sequoia China, Hearst Ventures | Adobe |
| Zilliz | AI search engine | Hillhouse Capital, 5Y Capital | Elastic |
"Give it ten years and you'll likely see a $100 billion cloud company in China," Cheng said. "The competition is heating up. But we are the most focused, and focus builds expertise."
Born and bred in Taiwan, Cheng moved to the U.S. in the 1990s to pursue an MBA degree after studying computer science in college. His first foray in Silicon Valley was as a product manager with Oracle. He later got a job with eBay in 2002, first building the site's digital marketing products in San Jose, and then relocating to Shanghai for a six-month stint, during which he failed to help the American retailer turn the tide in a losing battle against Alibaba's Taobao. "You can never conquer the Chinese market with Western mindsets," he said.

In 2007, Cheng co-founded online marketing platform AdChina, which was later acquired by Alibaba. In 2013, Tencent hired him to take charge of the company's media advertising assets including video and news portals. At that time, China's largest tech company had barely started expanding beyond its core business of video gaming. Its ad revenue -- also generated by apps like QQ -- surged 146% during Cheng's two-year spell.

As a venture capitalist, Cheng is now orchestrating his bets using the same strategy pioneered by the likes of Alibaba and Tencent: by adopting and improving in China business models that had worked in Silicon Valley. eSign's larger U.S. counterpart, DocuSign Inc., is a $36 billion company. Cheng says two-thirds of Eminence's portfolio fits this profile: Beijing-based Recurrent.ai, which provides artificial intelligence-powered voice tools to boost sales, is similar to Chorus.ai; and Shanghai outfit Duckbill runs a platform matching truck drivers with businesses, not unlike Next Trucking.

That's true for Cheng too, who first met Emergence's Green when he made a personal investment in AdChina. Even the name of his firm was inspired by his American partner and mentor -- both Eminence and Emergence are shortened as "em" in their web addresses.
"It's easy to bet on someone with a track record. It's much harder to bet on someone early in their journey," said Unicorn Capital founder Tommy Yip. "We bet on Peter early because we think he's got the potential one day to become the Emergence for China."