Fund Manager Shuns Rupee Bonds From Indian Companies
(Bloomberg) -- A fund manager who spent most of about two decades in the banking sector with Standard Chartered Plc is shunning rupee bonds from Indian companies due to the risk of the local currency weakening, and favors their dollar debt instead for the high yields.
"We don't want to take exposures to rupee debt as the risk-off modes can make returns unpredictable," said Hemant Mishr, founder of SCUBE Fixed Income Fund, a $100 million India-focused bond fund. The fund will focus on investing in high-quality dollar bonds mostly from Indian issuers, he said.
The rupee's three-month historical volatility at 7.6% is the highest among major Asian currencies, adding to fears of a quick reversal in flows if the currency slumps further after weakening 2.6% in the last quarter. Offshore notes of Indian companies have returned 11.9% so far in 2019, ICE bond index data show.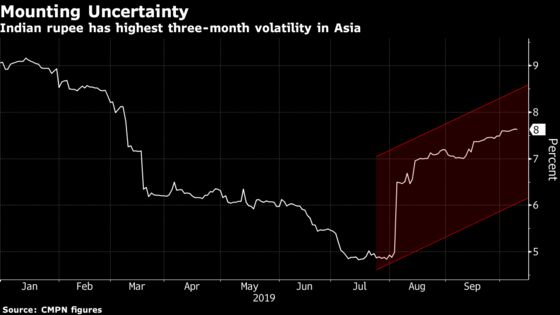 Mishr expects more Indian companies to sell dollar bonds, as a debilitating funding crunch in the aftermath of shadow lender IL&FS Group's collapse last year worsens strains in the domestic credit market.