The Executive Behind the 50% Surge of a Billionaire's Philippine Bank
(Bloomberg) -- Since Wick Veloso took the helm of Philippine National Bank in November, its stock has soared more than 50 percent, adding almost $500 million in market value. That's testament to investors' faith that the former HSBC Holdings Plc executive can turn around the company.
In an interview at his office in Manila, Veloso said the lender owned by billionaire Lucio Tan can meet its long-standing quest of delivering what may be some of the highest returns among the nation's banks. He aims to raise PNB's return on equity to 12 percent in three years from 9.4 percent at the end of September.
"PNB was once the nation's biggest bank and now we aren't even a third the size of the largest bank," said Veloso, 52. "We need to embark on a safe, aggressive growth strategy. And we don't need to reinvent the wheel. PNB has its strengths."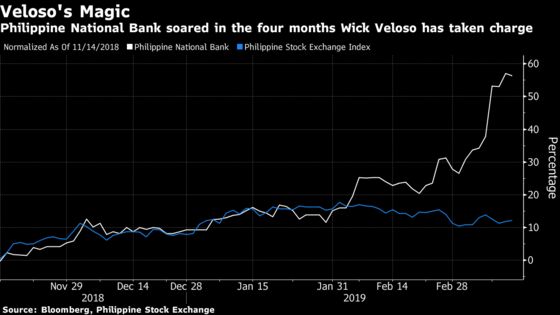 PNB shares have rallied 54 percent since Veloso assumed office Nov. 15 as president and chief executive officer, beating a 12 percent gain in the benchmark Philippine Stock Exchange Index through Thursday. Dogged by issues from transparency to falling ROE, it was the nation's worst-performing stock in the six years through 2018, sinking more than 52 percent.
Armed with more than two decades at HSBC, including almost six years as the CEO of its Philippine unit, Veloso said the 25 percent loan growth that some analysts predict is a "fighting target." His approach to get there is to speed up the bank's corporate-loan approval process -- it currently can take more than a month, he said -- and bulk up on consumer loans, which offer margins that are two to three times greater than those for corporate clients.
"For us to reach the size we want, we need to grow our loan portfolio and raise our profile with the biggest corporates even if they offer the slimmest margins," Veloso said. "Unless we find a bank to acquire, it's the only way for us to grow," he added, while not mentioning any acquisition was on the table.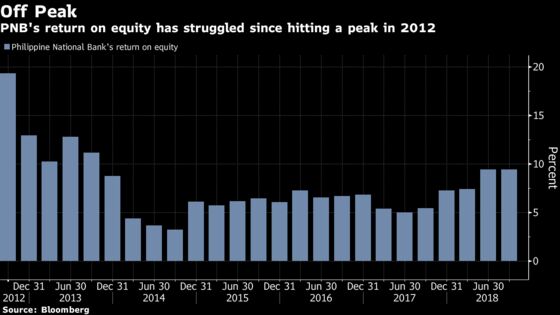 PNB Savings Bank, which focuses on lending to consumers for car and home purchases, has 60 billion pesos ($1.1 billion) in loans that can be tripled over the medium term given the group's 650 billion pesos in loanable funds, he said. Eventually, he wants to merge PNB Savings with its parent to streamline the approvals process.
At the same time, Veloso is eyeing the next challenge: whether PNB should partner with a consumer-finance company or tap a fintech platform to serve so-called "unbanked" Filipinos who rely on informal lenders including loan sharks for credit. There's still no dominant player in this segment, which offers 10 percent to 15 percent margin compared with 3 percent to 5 percent for consumer finance, and risks are mitigated by advances in technology and the spread of smartphones, he said.
PNB was the second-largest Philippine bank by assets when Tan, also known as Kapitan, first bought into the lender in 1999. Its standing deteriorated as the firm wrote off bad loans and smaller rivals overtook it through acquisitions. By the end of September, the lender ranked fifth by assets, and its ROE of 5.8 percent in the past five years is the third lowest among the nation's 15 listed banks.
"We can improve our returns by just cutting down PNB's branches and reducing its employees and disposing all its non-performing assets here and abroad," Veloso said. "But that is not what Kapitan wants. He wants a bank that offers full services across the Philippines."