Ex-Googler Set to Join China's Top 25 Richest With Tech IPO
(Bloomberg) -- Colin Huang's decision to quit Silicon Valley and return to China is proving one of the more ludicrously lucrative career moves in recent years, even in this era of extreme wealth creation.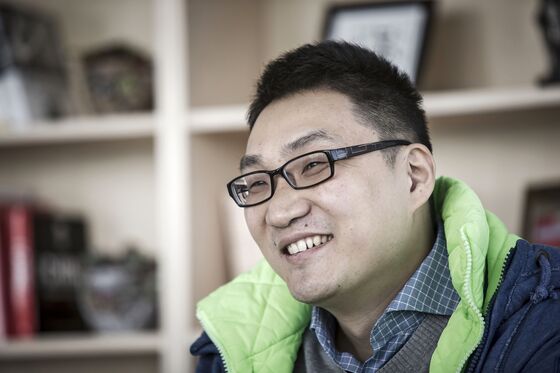 The former Google engineer, who founded Shanghai-based Pinduoduo Inc. three years ago, could soon have an $8.3 billion fortune, based on his holding in the e-commerce operator. That would make him among the 25 richest people in the country, according to the Bloomberg Billionaires Index.
Pinduoduo, which is backed by Tencent Holdings Ltd. and known as PDD, plans to go public in the U.S., offering 85.6 million American Depository Shares at $16 to $19 apiece, according to a stock exchange filing. Huang will own 46.8 percent after the IPO assuming an over-allotment option isn't exercised.
The $8.3 billion fortune is based on the low end of the pricing range. The top end would mean a net worth of $9.9 billion, making him the 16th-richest person in China, ahead of Richard Liu, the founder of China's No. 2 online retailer JD.com Inc.
The company didn't reply to emails seeking comment.
Technology is playing a paramount role in minting billionaires, accounting for over half of the top 10 richest in China. PDD, based on its filing, would be valued at as much as $21 billion after the IPO. The lofty valuation may be overshadowed by risks including fears of a trade war, which contributed to the lackluster debut of Xiaomi.
Huang, who grew up in Hangzhou and studied at Zhejiang University, got a master's degree in computer science from the University of Wisconsin. He started his career at Google's headquarters in 2004 as a software engineer and returned to China in 2006 to help establish Google China. He started his first company in 2007, an e-commerce site called Ouku.com that he sold three years later.
In April, PDD issued more than 250 million shares worth at least $1 billion, based on the low end of a pricing range, to a company controlled by Huang, according to the filing. Huang plans to donate some of his PDD shares to two charitable foundations that he intends to establish.