Ex-Commerzbank CEO Plans Fintech SPAC Listing
(Bloomberg) -- A SPAC backed by Martin Blessing, Commerzbank AG's former chief executive officer, plans to list in Amsterdam and target investments in financial services and technology companies.
The special purpose acquisition company, EFIC1, will seek to raise as much as 415 million euros ($496 million) and seek out companies in Europe, including the U.K. and Israel, according to a statement Monday, confirming an earlier Bloomberg News report.
"There is no upper limit on the size of planned investments but we are looking at companies with an equity value of at least 1 billion euros," Blessing said in an interview.
The SPAC wants to differentiate itself from European investors listing in the U.S. "There are lot of European fintechs that will want to list in their home markets," he said. "Being the first SPAC to list in Europe focused on this market will give us an advantage in terms of targets."
Other financial industry executives in the vehicle include Ben Davey, the former head of financial institutions in Europe at Barclays Plc, and Nick Aperghis, founder and managing partner of advisory firm Aperghis & Co. Chris Figee, chief financial officer of Dutch phone company Royal KPN NV, will be one of the independent non-executive directors of the SPAC.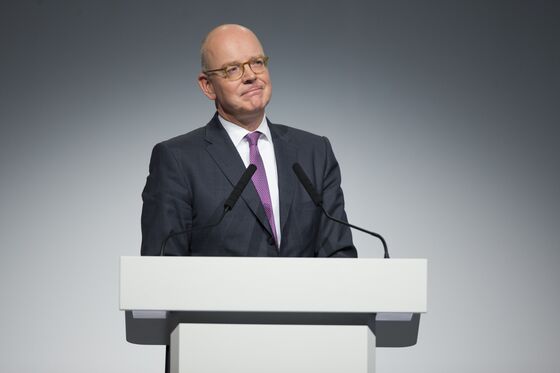 The boom in SPAC listings globally has led to a record first quarter for IPOs. More than 600 issuers have raised $162.4 billion in 2021, the most ever at this point in the year, according to data compiled by Bloomberg. SPACs accounted for half those proceeds.
Financial technology companies are attracting record valuations in private funding rounds. Online payments processing company Stripe Inc., which is headquartered in Dublin, saw its value almost triple in less than a year to $95 billion with its latest fundraising this month.
"Fintech IPOs are still only about 4% of all European IPOs," said Davey, who also previously led Barclays Ventures. "We think there's pent up supply and there are a significant number of fintech companies thinking about their next leg of capital raising where SPACs will have a role to play."
Blessing left Commerzbank and joined UBS in 2016, where he held various roles including co-head of wealth management and was considered a future contender for the position of CEO before he was replaced by Iqbal Khan in a shake-up in top leadership in 2019.
Credit Suisse Group AG is the lead adviser on the transaction. ABN Amro Bank NV, in cooperation with Oddo BHF, is acting as joint bookrunner and listing and paying agent. Financial investor Klaas Meertens, through his firm HTP Investments, will make a cornerstone investment of 40 million euros in the SPAC. Meertens will also be a non-executive director on the board.
This year, two other former European bank leaders have launched or started work on SPACs -- recently-departed UniCredit SpA CEO Jean Pierre Mustier and Tidjane Thiam, former head of Credit Suisse.