Troubled Brazil Utility Soars With Sale Decision Finally Set
(Bloomberg) -- The government of Sao Paulo, Brazil's most populous state, decided to privatize its main water utility, prompting the company's share price to surge following weeks of investor speculation over its future.
State authorities opted to sell Cia de Saneamento Basico do Estado de Sao Paulo, known as Sabesp, rather than injecting capital into the firm, according to Sao Paulo finance secretary Henrique Meirelles. Officials are counting on the federal government to hasten approval of a sanitation bill currently sitting in the nation's lower house, which would facilitate the sale, he said.
"People that I have talked to in Brasilia showed willingness to help secure the measure's approval," Meirelles, a former finance minister and central bank chief, said in an interview in Sao Paulo.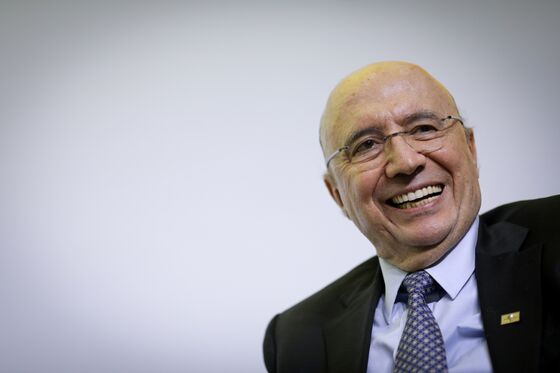 Sabesp's shares have whipsawed since the start of the year as the Sao Paulo government wrangled over plans for Brazil's largest water utility. After surging to a record high in January, the stock plunged 9 percent the following month as investors fretted over an apparent lack of agreement to sell the company. Meirelles has said that a privatization could fetch over 10 billion reais ($2.6 billion), while potential buyers reportedly include Brookfield Asset Management.
The plan to sell the utility comes at a time Brazil President Jair Bolsonaro and his Economy Minister Paulo Guedes pledge to shed billions of dollars in state-controlled assets to help spark investment and raise much-needed cash. An auction of 12 airports scheduled for March 15 is expected to offer a sign of market sentiment toward the administration and its plans.
Sabesp's share price rose as much as 5.8 percent on the news and led gains on the benchmark stock exchange in Monday afternoon trading. Further gains may be on tap if the privatization goes through, according to Rafael Passos, an analyst at Guide Investimentos.
"There's an expectation that there won't be any more political interference in company decisions and that governance and administration will improve," Passos said in an interview. "Still, we underscore that privatization depends on the approval of the bill that changes sanitation industry regulations."
The sanitation bill in Congress removes a main deterrent to private investments in the sector, according to Meirelles. As things stand now, state-owned utilities can simply renew sanitation contracts with municipalities, avoiding competing in new tenders when the arrangements expire. If passed, the legislation would end that advantage.
If the bill isn't approved, Meirelles said it would still possible to sell Sabesp, but noted that a new round of talks would be required. "We would have to see if the best way would continue to be privatization, or if it would be better to proceed with capitalization," he said.
The company's financial results last year took a hit from several factors including a weaker real. JPMorgan analyst Henrique Peretti estimated a privatized Sabesp could trade between 48.50 reais and 64 reais, while capitalization would keep a lid on the stock at 40 reais, similar to its current levels.
Meirelles, who previously served as former President Michel Temer's finance minister and ran for president in last year's race, said the Sao Paulo government has also started talks to renew concessions of some railroads and is seeking to privatize prisons and smaller companies. "We have an intense agenda," he said.