Bob Diamond Was 'Paranoid' About Possible Barclays U.K. Takeover
(Bloomberg) -- A U.K. fraud trial of former top Barclays Plc executives highlighted the fears faced by elite bankers as they grappled with a possible government takeover and what that meant for their careers.
In October 2008, former Barclays Middle East head Roger Jenkins, one of four defendants in the trial, described then-Chief Executive Officer John Varley and former investment bank head Bob Diamond's panic to a colleague in a portion of a phone call that was read to jurors in London Monday.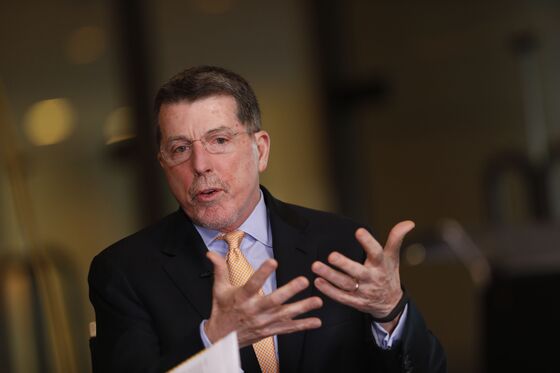 "John is scared to death that the government turn up tomorrow morning," Jenkins said in the recording. "And Bob is f---ing paranoid." Diamond was also worried about losing his job, he added.
In the U.K.'s first criminal trial of top executives related to the 2008 crisis, the Serious Fraud Office accuses Varley, Jenkins, Richard Boath, who was the European head of the bank's financial institutions group, and ex-wealth boss Tom Kalaris of hiding 322 million pounds ($423 million) of fees that it paid Qatar to secure two investments totaling 4 billion pounds.
The capital injections -- part of more than 11 billion pounds the bank raised in the period -- helped Barclays avoid nationalization, which would have cost the bank its independence and, according to prosecutors, jeopardized the executives' jobs and bonuses. The SFO alleges that the officials hid the fees in two "sham" advisory agreements, because it was paying Qatar more than twice the fees it was offering other investors.
The four defendants all pleaded not guilty, while Diamond is not accused of any wrongdoing.
In another phone call, Jenkins discussed what might happen to their pay if the government took over the bank with Boath and Jeff Weiss, then global head of Barclays' financial institutions group. Jenkins was paid 39.5 million pounds in 2007, Kalaris made 13 million pounds that year and Boath got 2.9 million pounds, prosecutor Ed Brown said. Varley, whose salary was restricted because he was on the board, earned 4.2 million pounds in 2007.
"At two o'clock in the morning I was panicking that we were about to get nationalized and you guys must have been the same because the government wouldn't look kindly on compensation over a million dollars," Jenkins said.
The conversations came as Barclays was negotiating Qatar's second investment. In early October, in an email with the subject line "Magician 2," Varley congratulated Jenkins about again interesting Qatari Prime Minister Sheikh Hamad bin Khalifa Al Thani in another capital injection, describing him as "an ace."
But reaching a deal on the fees Barclays would pay Qatar wasn't easy. At a dinner at Jenkins' home in London's Mayfair area, the executives suggested a fee of 120 million pounds for the second investment to Sheikh Hamad, Brown said, citing a note to the board's finance committee. The Qataris laughed at the suggestion, demanding 600 million pounds, Brown said.
After the dinner Varley emailed then-Barclays Chairman Marcus Agius at 11.55 p.m. to explain that while Sheikh Hamad was committed to helping the bank raise the 6.5 billion pounds it was looking for, he was concerned this wasn't enough, according to a copy of the email shown to the jury. He also said that Jenkins would ask the Qatari royal to tell then-U.K. Primer Minister Gordon Brown -- whom he was meeting the next day -- to "stay clear of Barclays because there are other economic interests which are supportive and at play."
Varley and Jenkins face an additional charge related to the second fund-raising, while all four are accused of fraud connected to the first investment.
Earlier Monday, Brown told jurors that Boath had concerns about the first investment, even after the one-page side-agreement for the deal, in which the 42 million fee was written in by hand, had been wrapped up.
Boath called in-house lawyer Judith Shepherd to discuss his concerns, saying he was a "fretter" and didn't think the advisory agreement was "very elegant," according to a recording of a July 2008 phone call played to the jury.
"My worry is every journalist just gets it and says, 'This is,' you know, well I hate to use the phrase, so I'm not going to use it," Boath said. "It begins with B."
"We don't even think that phrase," Shepherd said. "It's just words that never come across our lips. I think we do want a paper trail about what we got for it. We don't want to be sitting there thinking, 'Oh God, we've got to create one now."'
Boath said he wanted to ensure there was documentation that services were actually being provided by the Qataris, according to the recording. He said he wanted to discuss this in person, because he didn't like the idea of putting it in an email.
"When I put that on my screen and I read it, I sort of start to tremble," Boath said. "I'd really like to go and do something about it, so I can sleep."