Ex-Barclays CEO Agreed to Qatari's 'Dodgy' Demands, SFO Says
(Bloomberg) -- Ex-Barclays Chief Executive Officer John Varley, desperate to prevent a U.K. government takeover of the lender during the 2008 financial crisis, agreed to secret payments to a Qatari sheikh to guarantee a 4 billion pound ($5.3 billion) investment from the Middle East country, a U.K. prosecutor said Friday.
Varley and three of his top lieutenants are accused of hiding fees the bank paid to Qatari companies and creating a "misleading audit trail" when they'd decided to do so, Ed Brown, a prosecutor for the Serious Fraud Office said on the third day of their London trial.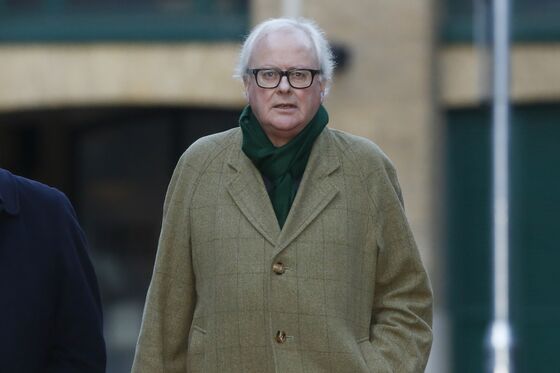 The bankers aren't charged with allowing payments to Qatar's then-Prime Minister Sheikh Hamad bin Khalifa Al Thani. But the SFO is presenting evidence about the level of detail the lender's top officials knew as they dealt with his demands to be paid for his family's own investment via a British Virgin Islands-based company called Challenger.
"I'm very surprised that John Varley, given his ethics, is doing this," former Middle East head Roger Jenkins told colleague Richard Boath in a phone call that was played to the jury. "It's like having the president of the United States advise JP Morgan, you just can't have it."
Varley, Jenkins, ex-wealth boss Tom Kalaris and Boath, who was the European head of the bank's financial institutions group, all deny the charges. Former finance director Chris Lucas was allegedly also involved in the conspiracy but is too ill to stand trial.
The discussions arose during the first U.K. trial of top executives relating to the financial crisis. The SFO produced emails, phone calls and transcripts of conversations to show the jury that the four men conspired to mislead investors, by entering into fake advisory deals with Qatar to conceal 322 million pounds in side payments.
After lengthy discussions in June 2008, Sheikh Hamad agreed to declare his interest in Challenger, but Varley's willingness to allow him to be paid a commission structured as an advisory fee still surprised Jenkins, the point man on dealing with the Qataris. He described Sheikh Hamad's demands as "dodgy" and "wrong," according to phone transcripts.
The discussions presented on Friday related to the first capital raising, in which the Barclays executives agreed to pay the Qataris a 3.25 percent investment commission -- more than double the rate other investors were getting. They agreed to make the extra payments via a deal in which the Qataris would purportedly deliver advice to the bank in the Middle East.
The executives said they were seeking advice from their lawyers on the matter, according to transcripts of the conversations. At one point, Boath asked Barclays lawyer Judith Shepherd whether they would have to demonstrate that the Qataris actually provided services. Shepherd said that they would if there were challenges from investors, the regulator or criminal authorities.
"I'm already feeling sick," Boath responded. "I wouldn't have agreed to it, but there you go."
"Well big dog will be in the dock first," Shepherd said, referring to Jenkins. "We're not playing a game here."
When Barclays presented a draft advisory agreement to the Qataris, it was roundly rejected, Boath said in another call with Shepherd.
"I could hear the spit landing on the telephone," he said.
"I do know what he's getting at but he's got to grow up," Shepherd said. "He is going to have to give the services in exchange, otherwise you are going to end up in front of the Fraud Squad explaining why."
"No, I've got a house in Brazil, there's no extradition treaty," Boath joked. "I'm off."
In a phone call with Kalaris, Boath raised the possibility of their plan being discovered, prosecutor Brown said, and played a recording of the conversation.
"There's obviously the jeopardy that we're rumbled and people say well that was bulls--t, you know, this is just a fee in the backdoor," Boath said.
"My guess is that we will be completely protected if we disclose that we had an arrangement, right?" Kalaris responded, with Boath then saying that "everyone will have a view on this."
As Barclays hesitated about the fees, fearing the investment may be blocked by regulators, Jenkins grew impatient.
"F--king stop messing around you stupid people," Jenkins said in a phone call with Boath, which was played to the jury. "We want their money, so take the f--king risk. Just put it in the prospectus, let's just move on for f--k's sake."