Ex-Apollo Partner Khajuria Says Buyout Debt Boosted Returns
(Bloomberg) -- Sachin Khajuria, a former partner at Apollo Global Management Inc., said wagering on buyout debt has helped him generate higher returns at the firm he started more than two years ago.
"In January, we talked about how buyout debt and pockets of turbulence in the markets allowed us to take advantage" of a shaky fourth quarter, which snapped back at the beginning of 2019, Khajuria said Thursday in a Bloomberg Television interview. He previously said that the debt, which finances buyouts for the largest private equity firms, was one of the best opportunities for returns in public markets.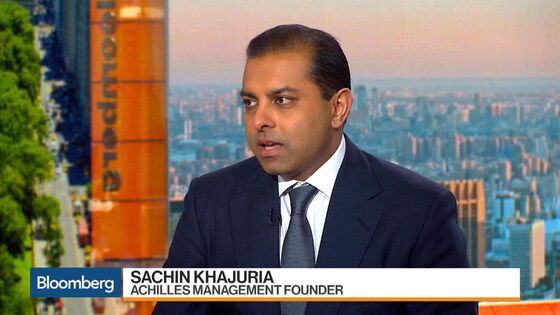 Khajuria founded Achilles Management LP after leaving Apollo in 2017. The family office is up 28% this year and has generated a roughly 97% return since its founding, according to a person familiar with the matter.
In the interview, Khajuria also said he's benefited from bets on "listed alternatives" -- a group that includes private equity stocks, which have been on a tear this year. "They're really growing, and they're paying strong yields," he said.
Buyout firms such as Blackstone Group Inc. and Apollo are surging this year, benefiting from corporate structure changes and the industry's capital-raising boom.
Khajuria also predicted trouble ahead for certain assets in credit markets.
"The credits that have run up a lot will go into trouble because they've just been lifted by a rising tide of liquidity," he said. "But if you look at individual names, individual credits, then you will see pockets of opportunity. It's really uncharted territory how they will perform when the downturn does happen."