Everything You Need to Know About Trump's Latest Tariffs
(Bloomberg) -- The Trump administration's latest salvo in a burgeoning trade war includes tariffs imposed on an additional $200 billion worth of Chinese goods ranging from steel panels to fresh garlic.
The U.S. will introduce an initial 10 percent tariff, giving American businesses some time to find alternative supply chains, before the duties rise to 25 percent from the start of next year. China responded by saying it will retaliate with its own measures.
Here's everything you need to know about the latest developments so far.
The Trump administration's unveiling of tariffs on the extra $200 billion worth of imports from China risks retaliatory measures from the world's second-biggest economy. China has previously said it would impose duties on $60 billion of U.S. goods ranging from liquefied natural gas to aircraft -- if the U.S. went through with its threat.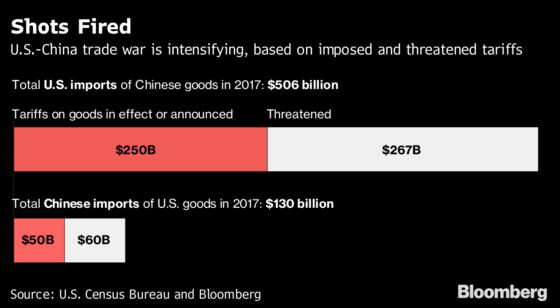 At a press conference in Beijing, China announced it will respond. There were no specifics, other than that measures will be implemented simultaneously with the U.S., though China has previously said it would retaliate with levies on $60 billion of U.S. goods. There was also no indication that it's ruling out talks at this point, only saying the latest salvo creates "new uncertainty."
The initial market reaction was relatively muted. China's response was restrained, and there were no major surprises in the announcement. The Shanghai Composite Index closed higher (before the China response was announced). The Stoxx Europe 600 also rose, as did U.S. futures.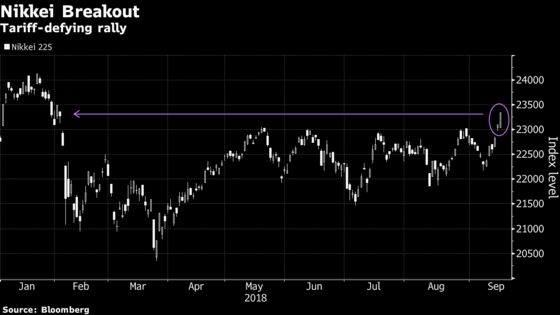 The final list of goods destined for import duties differs from the proposed version, with dozens of product excluded. Kids, parents, and the companies that cater to them, might prove to be the big winners here as everything from playpens to swing sets have been stripped from the revised list.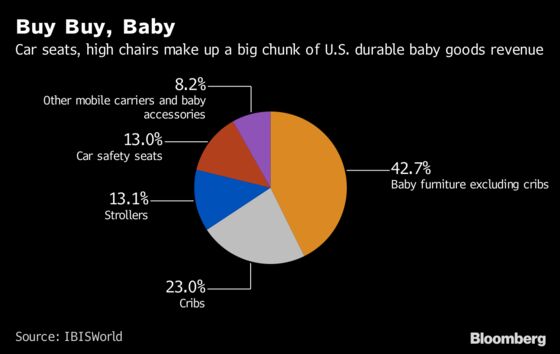 Many Apple Inc. products -- including the Apple Watch and AirPods headphones -- have also been granted a reprieve. As Bloomberg News reported on Monday, the finalized list excludes a line item that covers certain wireless devices.
American shoppers could still be hit by the extra import duties, however. The tariffs affect everyday items including food, furniture, and clothing. That broadens the potential impact to the realm of household spending -- or roughly 70 percent of the U.S. economy.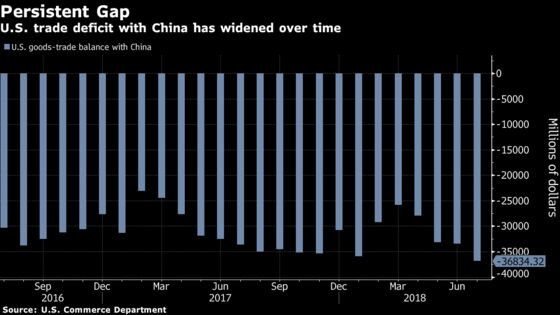 Samsonite International SA has been sending letters to its wholesale buyers, warning them that it will have to raise prices by 10 percent if the U.S. follows through with more tariffs on Chinese goods. The company has previously said it manufactures two-thirds of its products in China.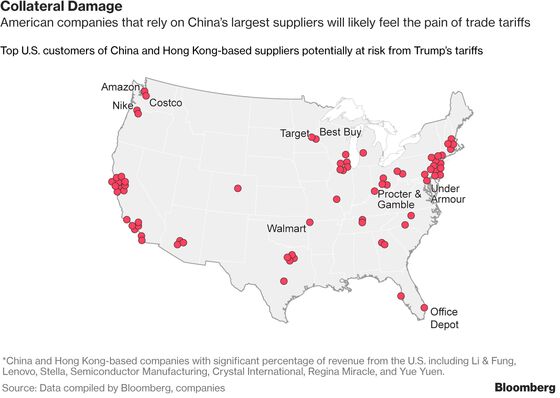 Here's a timeline of how we built up to this moment, tracing the tit-for-tat trade spat back to the Trump administration's decision to impose a combination of tariffs and quotas on washing machines. Prices of laundry equipment in the U.S. have since surged.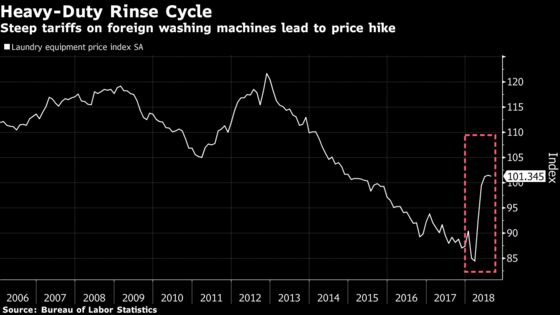 Geopolitical strategists, meanwhile, are pondering whether the trade war could spark a further deterioration in U.S.-China relations. They suggest five potential flashpoints to watch, including North Korea, where South Korean President Moon Jae-in is scheduled to meet with Kim Jong Un for talks this week.