Evergrande to Sell Entire Stake in HengTen for $273 Million
(Bloomberg) -- China Evergrande Group plans to sell the rest of its stake in HengTen Networks Group Ltd. for HK$2.13 billion ($273 million), the first Hong Kong-listed business to be dropped by the debt-stricken property giant. 
The developer agreed to sell its 18% holding in the internet services firm to Hong Kong-based Allied Resources Investment Holdings Ltd. at HK$1.28 apiece, according to a Hong Kong stock exchange filing. That's a discount of about 24% to the last close on Wednesday.
Evergrande said it expects to incur a loss of HK$8.5 billion from the sale, which comes as it tries to raise cash and make good on more than $300 billion in liabilities. The real estate firm is at the center of a debt crisis enveloping Chinese developers as they struggle with a leverage clampdown and a sales slump. 
"It's good for the short term as liquidity is easing," said Patrick Wong, a property analyst at Bloomberg Intelligence. "But this also shows its eagerness of raising cash even as the share price of HengTen has already fallen a lot."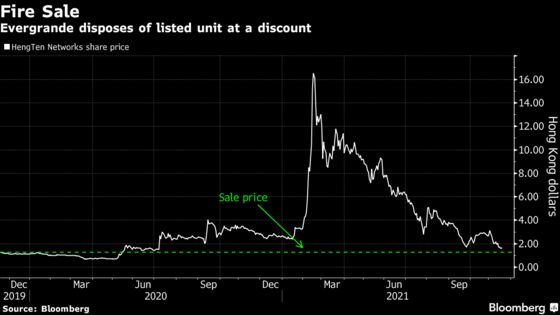 Shares of HengTen Networks surged as much as 28% in Hong Kong trading Thursday, on track to erase much of the 36% loss this year prior to the sale. Evergrande declined as much as 3.6%, extending its year-to-date slump to 82%. 
Evergrande's cash crunch has been compounded by property sales all but evaporating after it halted construction on projects, deterring buyers. Its contracted sales for September through Oct. 20 totaled 3.65 billion yuan, a tiny fraction of the 142 billion yuan it recorded from Sept. 1 to Oct. 8 last year. 
Evergrande has paid overdue interest on other securities at the last minute in recent weeks, averting default. Still, its bonds remain at levels that indicate investors anticipate a restructuring. Its 8.25% dollar note due in March 2022 was indicated lower at 31.6 cents on the dollar Thursday, Bloomberg-compiled prices show. 
Evergrande said it will use the proceeds of the HengTen sale for general working capital. The buyer, Allied Resources, is controlled by businessperson Li Shao Yu.  
Evergrande bought the company with Tencent Holdings Ltd. in 2015, renaming it HengTen as an internet firm focusing on the film business. The developer held as much as 55.6% of HengTen until last year, when it had a vision to spark synergy between the internet business and its online sales platform. 
HengTen purchased a radio and television program producer and film distributor called "Ruyi" in October last year. Its shares almost tripled in eight trading days after it announced a film app owned by Ruyi saw a large increase of registered users and subscribers, partly due to a promotion among Evergrande's homeowners. 
As its liquidity crisis deepened, Evergrande sold down its holding in recent months. It offloaded a combined 530 million shares in HengTen through the open market for HK$1.12 billion earlier this month, Bloomberg calculations show. In late June, it sold part of its stake to Ke Liming, owner of HengTen subsidiary Pumpkin Films Ltd. In August, it raised $418 million by selling another stake in the firm. 
"A discount of close to 25% may seem overly massive and that may highlight some 'desperation' by the company in keeping afloat," said Jun Rong Yeap, a strategist at IG Asia Pte, adding the deal could be a guide for further asset sales. "We may potentially see deep discount for subsequent deals as well."