Developer Evergrande Rises After Making $43 Million Buyback
(Bloomberg) -- China Evergrande Group, the country's most indebted developer, rose in Hong Kong trading after the company bought back HK$336 million ($43 million) of shares.
The stock climbed 2.2% on Tuesday. The company paid HK$11.08 to HK$11.84 apiece for the shares, about 0.2% of issued capital, it said in a filing to the exchange late Monday.
The move extended gains that began Monday afternoon after the developer issued a statement dismissing "rumors" that questioned its price discounts and dealings with a banking unit.
Evergrande is under close regulatory scrutiny as authorities issue a slew of measures to curtail risks in the property sector. It's falling further behind peers in meeting stricter Chinese borrowing limits, raising refinancing concerns.
"The volatility in Evergrande's share price is unlikely to decrease," said Castor Pang, an analyst at Core Pacific-Yamaichi International Hong Kong Ltd. "Evergrande's price has dropped a lot and that's helping with the rebound, but it's hard to say if it can last."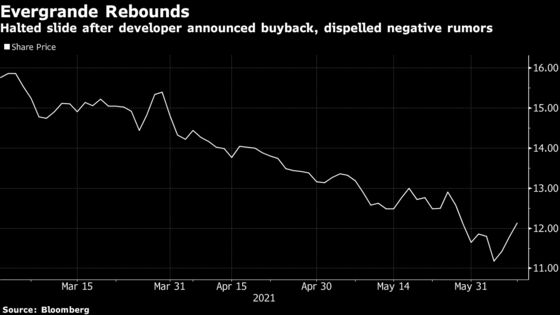 Evergrande's bonds also rose on Tuesday. Its 8.75% dollar bond due 2025 climbed 2 cents on the dollar to 75.9 cents as of 3:57 p.m. in Hong Kong, set for the largest increase since December. The firm's onshore bonds were generally higher as well, with its 6.98% note due 2022 up 2.1% at 88 yuan, erasing much of Monday's decline.
Analysts at JPMorgan Chase & Co. upgraded the stock to overweight from neutral, saying the likelihood of further share repurchases should drive near-term gains. Evergrande's statement saying it's been complying with the law on transactions with part-owned Shengjing Bank Co. "should remove concerns among investors," analysts including Ryan Li wrote in a note.
Uncertainties for the industry still remain amid policy changes. China's Ministry of Land and Resources shifted the responsibility for collecting land sales revenue to the tax bureau on Friday, a development that Australia & New Zealand Banking Group Ltd. analysts deemed negative for the property sector.
The People's Bank of China said in a response to a Bloomberg query on Friday that it would include commercial banks' investment in securities backed by residential mortgages in property-related loan exposure, a move that could limit growth of debt for builders.
"Evergrande's buyback may fail to ease liquidity concerns," said Kristy Hung, a Hong Kong-based analyst with Bloomberg Intelligence. The company "could face higher refinancing risks because the PBOC's broadening of its definition of banks' property exposure to include some investments in the sector may force them to trim loan exposure to developers further."
Evergrande's bond and stock selloff worsened last week after Caixin Media's WeNews reported that regulators were looking into its dealings with a banking unit. The China Banking and Insurance Regulatory Commission is examining more than 100 billion yuan ($15.6 billion) of transactions between the developer and Shengjing Bank, WeNews said on May 27.
Shengjing Bank holds large amounts of bonds issued by Evergrande, WeNews reported, citing unspecified sources. Evergrande is the bank's biggest shareholder.
Evergrande said in its statement that its operations were as normal and it has never delayed any repayment of loan principal or interest. The firm will arrange payment of a "very small amount" of commercial paper issued by some affiliates that hadn't been repaid on time, it added.
In an effort to restore investor confidence, the company said last week that it would try to meet at least one of China's so-called three red lines -- metrics limiting debt levels in the property sector -- by the end of this month.