Evergrande's Goal to Cut $100 Billion Debt Hinges on Stock Sales
(Bloomberg) -- China Evergrande Group's target for cutting its $100 billion in debt hinges on more profit-squeezing property price cuts and aggressive equity fundraising from its non-core businesses.
After reporting its second straight year of declining profit, the nation's most indebted developer said on Wednesday that it has made early progress on paring borrowings and unveiled plans to roughly halve the remainder over the next two years. To meet the goal, Evergrande needs to sustain share sales in its new businesses, some of which haven't ramped up yet, analysts said.
"Evergrande's debt-cut target could be a stretch," Bloomberg Intelligence property analysts Kristy Hung and Patrick Won wrote in a note Thursday, cautioning that raising more equity from its listed entities and more spinoffs is no sure thing.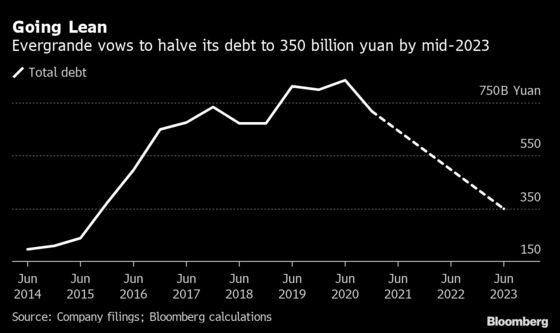 In a year when billionaire Hui Ka Yan's conglomerate narrowly navigated a liquidity scare, revenue missed analysts' estimates while adjusted core profit slid 26% to 30.1 billion yuan ($4.6 billion).
Evergrande's total debt shrank 14% from the end of June to 717 billion yuan in December, and to 674 billion yuan in March, the lowest in two years, according to Bloomberg calculations based on the results. It plans to reduce the borrowings further to 350 billion yuan or less by June 2023, it said.
For more detail on the earnings, click here
The debt reduction includes a series of planned equity fundraisings. Evergrande aims to list its online home and car sales platform FCB Group around the end of this year or early 2022, Hui said Wednesday. He added Evergrande has bought back a 49% stake in its water business, years after disposing of it, and plans a listing.
These add to a proposed listing of its electric-vehicle startup in Shanghai, although no progress update has been given since it announced the plan in September. On Wednesday, Evergrande signaled it was pushing back trial production of cars to around the end of this year.
"Evergrande isn't just a property developer anymore," Hui said in a webcast. "Nowadays it incorporates many new ventures. Evergrande has diversified."
Investors will need more clarity before recognizing the value of these side businesses, Citigroup Inc. analysts led by Griffin Chan wrote in a note, maintaining a sell rating on the stock and slightly cutting the target price to HK$13.50.
Shares of Evergrande dropped as much as 6.5% on Thursday, the biggest intraday decline in five weeks. The stock traded at HK$14.18 in Hong Kong.
The debt cut plan also suggests more margin pressure ahead as the developer speeds up sales to recoup cash. Evergrande's gross margin may fall further in 2021 after dropping 4 percentage points to 24% last year, according to Bloomberg Intelligence.
Funds garnered through equity sales in the second half of last year were equivalent to about a third of Evergrande's 119 billion yuan debt reduced in the same period, Bloomberg Intelligence wrote. In the year through March, equity fundraising amounted to 88.8 billion yuan, Hui said.
The drop in debt came after a swiftly changing policy environment in China coincided with Evergrande's saga. In the third quarter, officials drafted what state-run media have called "three red lines" -- financial metrics that developers will have to meet if they want to borrow more.
Evergrande continued to miss the three requirements at the end of last year, according to Bloomberg calculations based on the annual results. It plans to meet two of the metrics by the end of this year and achieve all three by the end of 2022, President Xia Haijun said Wednesday.