Evergrande Chairman Buys $1 Billion of Its Debt in Rare Move
(Bloomberg) -- The billionaire founder of China's most indebted property developer made an unusual move to buy $1 billion of its new $1.8 billion notes priced on Tuesday, as he seeks to lend support to the group.
Hui Ka Yan, chairman and executive director of China Evergrande Group, purchased $250 million each of its 2022 and 2023 bonds, while his wholly-owned Xin Xin (BVI) Ltd. bought another $250 million each of those two notes, according to a statement to Hong Kong stock exchange on Wednesday.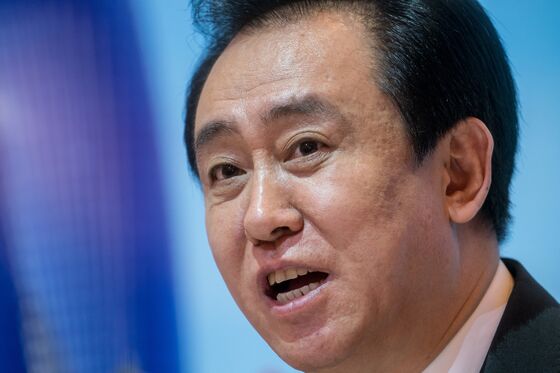 Hui followed through with the purchase after expressing interest to buy the notes on Tuesday. "The purchase is being undertaken to signify Mr. Hui's support to and confidence in the Group," the company said in the filing on Wednesday. The terms of the purchase of the notes by Hui and Xin Xin are the same as other investors in the debenture that was issued Tuesday, according to the statement.
Evergrande's latest bond offering comes amid government effort to rein in property prices in China, which has made funding more expensive for developers. The company has relied more on high-cost trust funding recently, which accounted for about 45 percent of its total borrowing at the end of June, the most since at least 2010.
The chairman's decision to buy up to $1 billion of the new bonds before they priced was a marketing tactic in hopes to boost orders for the deal, according to Yin Chin Cheong, an analyst at CreditSights. "He received a fat dividend recently, so he is just reinvesting his dividends back into the firm. That said, his move is unusual," Cheong said.
Hui, the third-richest person in China, collected $3.6 billion pretax dividend since Evergrande's listing, according to the Bloomberg Billionaires Index. Hui's net worth decreased by about 30 percent since the beginning of this year to $25.5 billion, dragged by Evergrande's shares. The firm's stock is down almost 40 percent from a high in August and some of its dollar bonds have plunged to unprecedented levels amid concerns over its debt.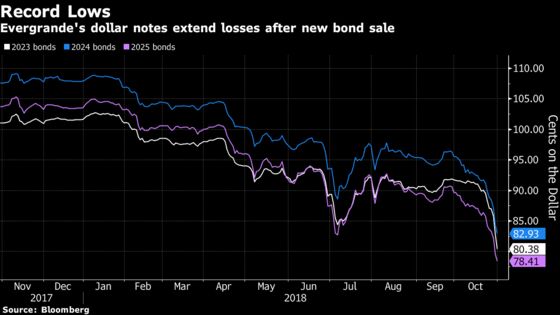 The three-tranche $1.8 billion issue is Evergrande's first dollar bond sale in about 16 months. The company sold $565 million two-year tranche at 11 percent; $645 million 4 year non-call two year note at 13 percent and $590 million five-year non-call three bond at 13.75 percent. The 13.75 percent coupon is the third highest for an Asian junk bond issuer this year, Bloomberg-compiled data show. The deal received combined orders of over $2.32 billion, a person familiar with the matter said.
Proceeds from the issuance will be used to partly refinance its $2.4 billion offshore loans maturing in the first half of 2019, investors who attended a conference call on Tuesday by Evergrande said, citing a company official. The $2.4 billion borrowing includes a mortgage loan of about $1 billion due in February, they said they were informed.
The purchase by Hui Ka Yan shows major shareholder's support for the firm's development, Evergrande said in a response to a call by Bloomberg News, adding that the interest rate of the bond is based on market conditions.