Even a Hog-Riding Bull Says Harley Needs to Break From the Past
(Bloomberg) -- When wearing his analyst hat, Ivan Feinseth keeps being let down by Harley-Davidson Inc. When his bike helmet is on, it's another story.
Feinseth, the chief investment officer of Tigress Financial Partners, is an avid hog rider and owns a classic Heritage model. While he's a fan of Harley chrome, even he thinks the 116-year-old company needs to part ways with the past.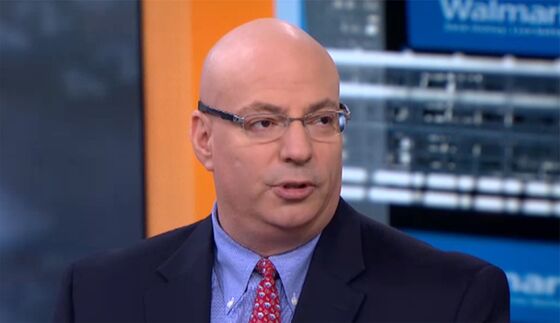 Harley has been struggling mightily with an aging customer base that's either buying bikes less frequently or parking them for good. Chief Executive Officer Matt Levatich is making the right move in straying away from the thundering monstrosities that endeared baby boomers and building slimmer, commuter-friendly models that'll rebuild the ranks of Harley riders.
"They're doing the right things," Feinseth said. "There are just a lot of headwinds in general."
Those headwinds are part self-inflicted and part the makings of a global trade environment made more treacherous by Donald Trump. Harley reported early Tuesday that it barely broke even in the last quarter of a year in which the struggling American icon got caught up in the U.S. president's trade wars. Earnings missed estimates and the shares plunged the most intraday in a year.
Tariffs will cost Harley between $100 million and $120 million this year, Levatich said on a conference call with analysts. The European Union hit motorcycles with higher levies in retaliation to Trump's boosting duties on steel and aluminum, which also has made materials more expensive for the company.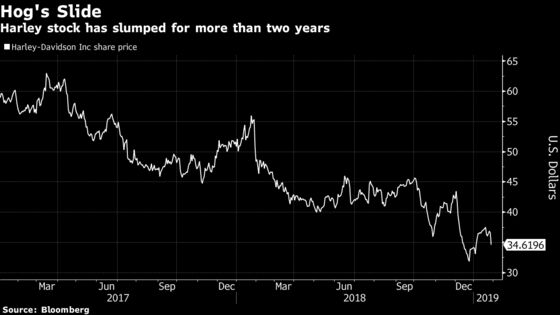 After Harley announced in June last year that it would shift some production out of the U.S. to sidestep the EU's higher tariffs, Trump attacked the company for months. By the end of this year, a majority of the motorcycles sold in the trade bloc and in China will be shipped from a new factory in Thailand, Levatich told Bloomberg News in a phone interview.
Trump said in August that he'd back a boycott of the company's bikes for moving production out of the U.S.
Feinseth, who rates Harley a buy, downplays the prospect that Harley could be having loyalty issues. After all, he says, the company's emblem is a popular tattoo.
"That's a commitment," he said. "They have a very loyal customer base. There is very low probability that, once you own a Harley, you'll buy any other brand."
Levatich's efforts to host dealership events and start riding schools should pay off by stemming the tide of its shrinking customer base, Feinseth said. The New York-based analyst has mixed work and play by partaking at Harley's New Jersey riding academy.
"Harley is the ultimate symbol of independence and freedom," Feinseth said. "But the first thing you do when you buy a Harley is look for people to ride with. They do a great job of creating this community."
While some large industrial companies like Caterpillar Inc. have sent gloomy signals about the health of the global economy early this year, Levatich said Harley's struggles are specific to the motorcycle industry. The company is focused on attracting new, younger riders and cutting back on inventories to narrow the price gap between new and used bikes. Used motorcycles have been getting cheaper and undercutting sales of new models.
"Our focus is on fixing the industry issues that our plan addresses, and whatever else comes our way, whether it's trade, tariffs, or the economy," he said in the phone interview. "We will contend with it as we have in the past."