EV Battery Maker SES Agrees to Go Public Via Ivanhoe SPAC
(Bloomberg) -- Battery maker SES Holdings Pte has agreed to go public by merging with Ivanhoe Capital Acquisition Corp. in a deal that will value the combined company at about $3.6 billion.
The combined entity will get as much as $476 million in gross proceeds, according to a statement Tuesday that confirmed an earlier Bloomberg News report.
That includes about $276 million from Ivanhoe, a special purpose acquisition company, or SPAC, plus a fully committed private investment in public equity, or PIPE.
The investors in the $200 million PIPE include Koch Strategic Platforms, Hyundai Motor Co., Geely Holding Group, Kia Corp. and General Motors Co., according to the statement.
"The backdrop, the mega trend, is that all of these major companies around the world -- not just in the US, but also in Asia and Europe -- they are committing to moving away from combustion engine to EV," said Qichao Hu, founder and chief executive officer of SES, in an interview.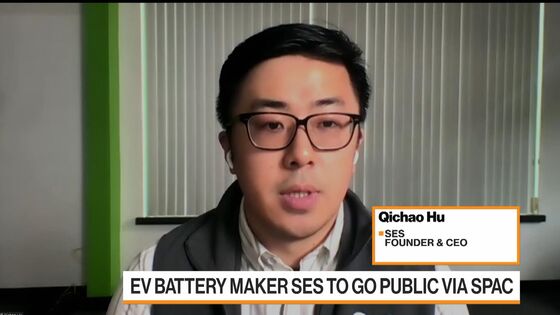 Singapore-based SES, which makes hybrid lithium-metal rechargeable batteries for electric vehicles, currently has prototypes almost ready for Hyundai and General Motors, he said, and the partnership with nickel-producer Ivanhoe will be highly strategic.
"The batteries that are used today, whether it's Tesla, GM or Hyundai, wherever it is, the high-energy density batteries typically are high in nickel," Hu said. "Eventually, batteries are going to come down to cost and raw materials so working with Ivanhoe can really address those key raw material supply issues."
Ivanhoe raised $276 million including so-called greenshoe shares in its initial public offering in January. The shares of the combined company are expected to trade on the New York Stock Exchange under the symbol SES. Ivanhoe fell 4.4% to $10.00 at 10:16 a.m. in New York on Tuesday.
Hu added that Ivanhoe had looked at other batteries companies and hired consultants to help evaluate the different ones. SES was asked to send samples of its batteries to two third-party testers, which the company will release, he said.
Goldman Sachs Group Inc. served as financial adviser to SES, with Morgan Stanley working as sole placement agent on the PIPE offering and financial adviser to Ivanhoe.