European VCs Raise Larger Funds for Investments in Seed to Space
(Bloomberg) -- A range of European venture capital firms are seeking to raise more money in fewer funds as they ride a global trend toward larger investment vehicles. For five prominent firms in the region, sizes are expected to range from $100 million to $350 million each.
Idinvest Partners SA, one of France's largest VC firms, is targeting a $350 million fund, said a person familiar with the plans. London-based Seraphim Capital, a venture fund focusing on space exploration, is finalizing a global fund of 200 million euros ($226 million), said Mark Boggett, the firm's chief executive officer.
Entrepreneur First, a London-based startup accelerator, is raising $200 million, according to a person with knowledge of the matter, who asked not to be identified because the plans are private. The company, which is backed by Greylock Partners, Founders Fund, Lakestar Capital and others, runs a program where entrepreneurs receive a monthly stipend and a small seed investment in return for an eight percent stake in their companies.
Many European VC firms are raising larger funds to keep up with similar moves by the competition. Median fund size in the region rose more than 50 percent this year, according to research firm PitchBook Data Inc. As annual fund count is expected to decline, PitchBook analysis indicates that fewer-but-larger funds in recent quarters may signal a consolidation of capital to top firms.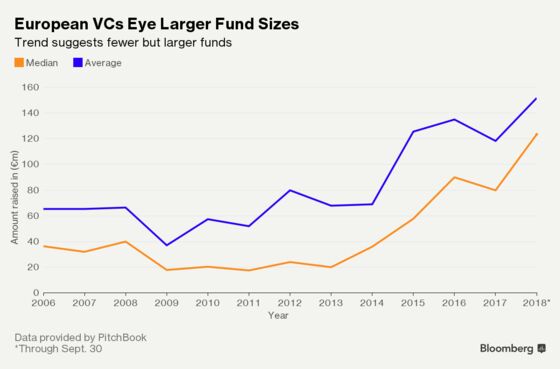 Funds are filling up in a wide variety of sectors and geographies. Earlybird Venture Capital, a firm focused on European technology, is seeking to raise 150 million euros for its second "east" fund, focusing on Turkey and other emerging economies in Europe, according to a fundraising document viewed by Bloomberg. It would follow a 175 million euro Digital West sister fund raised in July to invest in German-speaking countries, the Nordics, U.K., Benelux, France and Southern Europe.
Government money is helping drive the sector's growth as well. Earlybird has held talks with the European Union's European Investment Fund and London-based lender European Bank for Reconstruction and Development, according to a person familiar with the matter. The fund will target corporate software, industrial technology and consumer internet. Seraphim has held talks with sovereign wealth funds and the governments of Abu Dhabi, Japan and Luxembourg, in addition to international companies, Boggett said.
Retail investors will also get a chance to help raise capital. VC firm Beringea is seeking to raise a record total of 80 million pounds ($102 million) for its two U.K. funds, ProVen VCT Plc and ProVen Growth and Income VCT Plc, according to a statement. They are venture capital trusts -- publicly listed on the London Stock Exchange -- that aim to maximize tax-free capital and returns to shareholders.