European Shares Edge Lower After Batch of Disappointing Earnings
(Bloomberg) -- European stocks ended slightly lower, halting a recent rally, as investors assessed underwhelming corporate profits.
The Stoxx Europe 600 Index dropped 0.1% at the close. A sales miss at Nordic Entertainment Group AB dragged media shares lower. AMS AG shares retreated 7.1% as some analysts said the chipmaker's first-quarter guidance was disappointing.
European shares have risen in February, nearing a record high, after worries about retail-trading speculation eased, making way for optimism about an economic recovery and prospects of more U.S. stimulus. Investors are now carefully monitoring corporate results for signs of strength or weakness in profits.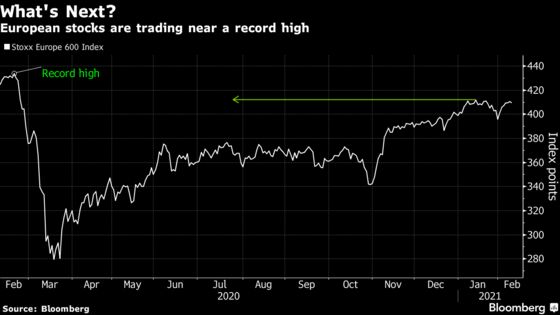 Europe's continuing lockdowns, despite vaccination efforts, also weighed on the market mood Tuesday.
"Europe's slow vaccine rollout continues to dominate headlines and market sentiment," said Ulrich Urbahn, head of multi-asset strategy and research at Berenberg Bank. "In the medium term, however, we remain optimistic. Negative real interest rates, loose monetary and fiscal policy, high cash holdings, rising profits and their relative valuation all argue in favor of equities."
Poland's biggest computer game maker, CD Projekt SA, dropped 5.7% after becoming a victim of what it described as a targeted cyberattack. Orion Oyj tumbled 8.8% after the Finnish drugmaker's fourth-quarter net sales missed estimates.
Ocado Group Plc fell 1.7% after the U.K. online grocer forecast that earnings in its International Solutions segment will be lower this year, citing more investment in building the business.