European Gas Prices Rise as Russian, Norwegian Supplies Decline
(Bloomberg) -- European natural gas prices gained as the region's top two suppliers reduced flows just as the winter heating season gets under way.
Norwegian deliveries fell to the lowest in a week, Gassco AS data showed. Meanwhile Russia has curtailed shipments into Germany via a key link through Poland. And supply from the U.K. North Sea is set to drop due to an outage.
Flows into Mallnow near the Polish border, where Russia's Yamal-Europe pipeline ends, have slumped to about 15% of normal volumes this month. Deliveries are likely to remain limited as the pipe's capacity was only partially booked in auctions earlier this week.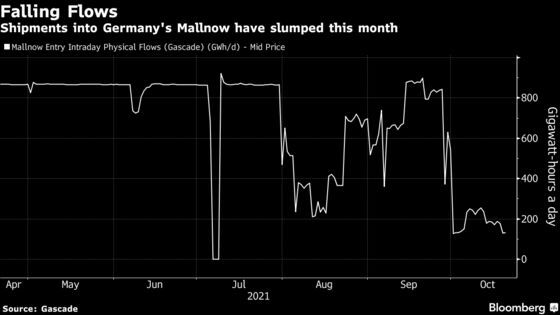 Dutch front-month gas at the Title Transfer Facility rose 4.4% to 93.85 euros a megawatt-hour at 3:44 p.m. in Amsterdam. The U.K. equivalent climbed 3.8% to 244.58 pence a therm. Carbon futures and benchmark power prices in Germany and France also gained. French nuclear output is at its lowest level in 15 days. 
The energy crunch in Europe shows few signs of abating, with the region's gas-storage sites at their lowest seasonal level in at least a decade, though recent mild weather has prevented steep withdrawals of the fuel. 
"The big question for the TTF natural gas prices is: at what point will they either go ballistic due to a cold winter or fall back?" SEB AB chief commodities analyst Bjarne Schieldrop said in a note. "Defusing the current winter risk is unlikely to take place before mid-to-late December 2021 at the earliest."
Yet if the coming two months turn out to be "warm, wet and windy," then the winter risk through March "is significantly defused and prices could fall back even before the first quarter," he said.
EUROPE WEATHER: Milder Outlook for Mainland Europe Next Week
The month-ahead weather outlook points to temperatures near seasonal norms or slightly higher in November. 
On the supply side, outages are exacerbating market tightness. In Norway, a planned capacity cut at the Oseberg field will start Friday, while in the U.K., the Elgin-Franklin field has tripped, causing a halt to deliveries at the Bacton Seal terminal in eastern England.
EUROPE GAS OUTAGES: U.K.'s Elgin-Franklin Trips, Halting Flows
With flows from Russia still closely watched, the government said Wednesday that the heating season had begun across the entire country. 
Injections into Russian storage sites are 97% complete, and stockpiling should be finished by Nov. 1 as planned, Energy Minister Nikolay Shulginov told President Vladimir Putin at a meeting broadcast on Rossiya 24 television. Russia has previously said domestic supply and demand will determine the availability of any extra shipments to Europe.
Putin also said Russia was increasingly worried about soaring gas prices leading to demand destruction, and would prepare a set of domestic measures to tackle the negative consequences of the rally.
Gas news, analysis
Germany's Green Party Opposes Speedy Nord Stream 2 Start: Funke
Yamal-Europe Gas Link Cuts Capacity by 25% for Tests to Oct. 22
Venture Global Inks 20-Year Deals to Sell LNG to China's Sinopec
Europe Needs Russian Gas, But Utilities Are Yet to Seek More