European Gas Slides as Russia Progressively Steps Up Exports
(Bloomberg) -- European natural gas prices slipped on signs Russia may be starting to gradually deliver the boost in supplies President Vladimir Putin promised. 
Benchmark Dutch futures fell as much as 12% after allocations of capacity on a key Ukrainian-Slovakian border point increased for Wednesday after a smaller gain for Tuesday. 
Gazprom PJSC approved a plan to refill its European storage sites this month, as Putin ordered late last month following the completion of Russia's domestic stockpiling campaign. In one tangible sign of action, the Ukrainian gas grid operator confirmed it was the Russian gas giant that booked the extra transit capacity for Tuesday at the Uzhgorod/Velke Kapsuny point. The buyer of the capacity for the same area Wednesday wasn't immediately disclosed. 
Traders watch every move from Russia, Europe's top supplier that had promised to increase deliveries to the region from Monday. While flows didn't get an immediate boost, supply is looking less tight on Tuesday with gas also now flowing westward from Poland to Germany, resuming the normal direction. Orders for space on the Mallnow link indicate a further increase for Wednesday. 
Gas Orders Into Germany's Mallnow Gain 39% For Wednesday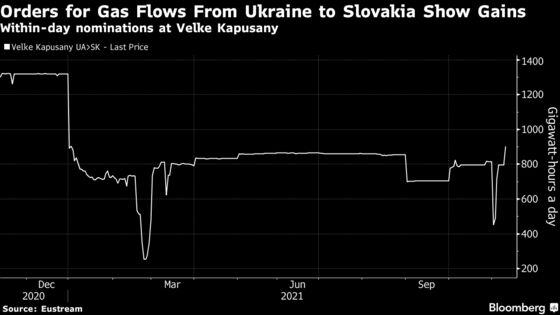 Also potentially easing the region's supply crunch, Dutch state-owned grid operator Nederlandse Gasunie NV said production at its giant Groningen field might temporarily increase as construction of a nitrogen plant to convert imported gas is delayed. The field's output has been reduced ahead of a permanent halt after earthquakes linked to production damaged buildings in the province.
Benchmark European gas futures fell 8.2% to close at 72.59 euros a megawatt-hour. The equivalent U.K. contract dropped 7.8% to close at 187.18 pence a therm.
European gas prices have more than tripled this year as Russia kept supplies capped just as liquefied natural gas cargoes were being diverted to Asia. That meant Europe started the heating season with the lowest inventories in more than a decade.
But there are now signs that the tightness may be easing. Just over 19 million cubic meters a day of pipeline capacity at the Ukraine-Slovakia border at a day-ahead auction on Tuesday, or about double the amount that cleared at the previous day's sale. That's still less than a quarter of the capacity offered, and nothing was allocated in capacity auctions on other points.
Still "flows are not showing a massive boost," Trevor Sikorski, head of natural gas, coal and carbon at Energy Aspects Ltd., said earlier Tuesday. 
The consultancy expects that "at best," Russia would ramp up to its booked capacity in Ukraine of 110 million cubic meters a day and supply through Poland would match the allocated capacity of 38 million cubic meters a day this month.
Putin's promise primarily referred to Gazprom filling its own sites in Europe, which have largely remained below average levels seen across the region. The Russian gas giant added some fuel into its German sites over the weekend. Some injections continue but at lower levels, data from its Astora unit showed. Gazprom said on Tuesday it had decided reinjection volumes and routes to fill its five European storage facilities, without providing details.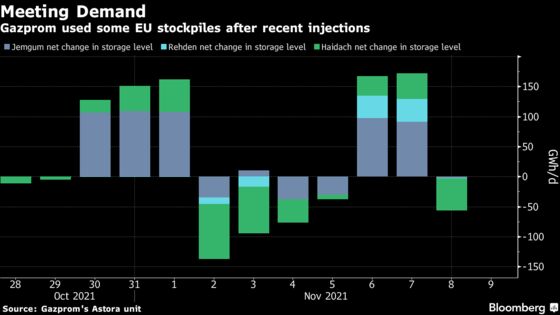 Gazprom is following Putin's directions to refill inventories, said Katja Yafimava, a senior research fellow at the Oxford Institute for Energy Studies.
"I take it as an indication that Gazprom will certainly refill its European storages to the level necessary to meet its long-term supply contracts over the winter period," she said. "We will see a gradual increase in flows on the Ukrainian and Polish corridors over the course of November-December."
But Gazprom is unlikely to make additional bookings on the existing routes and offer extra volumes to Europe unless there is an indication from the German regulator that the certification of its new Nord Stream 2 pipeline "is making good progress," Yafimava said.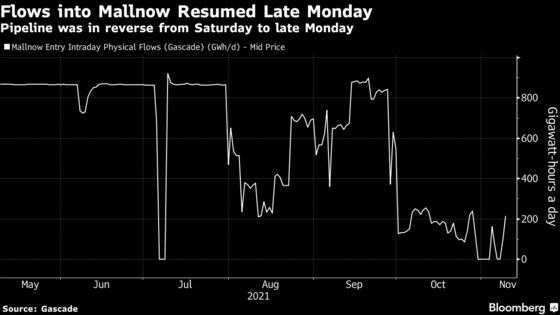 MARKET NEWS
EUROPE WEATHER: Cold Temperatures to Expand West Next Week
Morocco Eyes Global LNG Market Amid Spat With Algeria (1)
Russia, Belarus Agree on Gas Supplies for Next Year
LNG WRAP: Asia Prices Rise as Indonesia, Malaysia Delay Cargoes