European Gas Drops on Russia's Bookings, Higher LNG Flow
(Bloomberg) -- European natural gas prices retreated from a record close after Russia topped up fuel to the region for Friday at the last minute and as cargoes started diverting away from Asia.
Dutch next-month futures pared some of the losses after slumping as much as 16% earlier Friday, with the move from Russia easing supply fears already alleviated by expectations of more LNG reaching the continent. Russia's intentions for volumes on Saturday however remain uncertain.
Weather forecasts are also indicating that a cold snap from next week won't be as long or pronounced as previously expected. 
Europe is likely to remain a lucrative market for flexible U.S. LNG through at least April, given regional price differences, according to BloombergNEF data, which shows the widest spreads favoring Europe in January and March.
LNG Cargoes Divert to Europe as Well-Stocked Asia Stays Sated
The market is still headed for its longest run of weekly gains since July as storage levels are at their lowest ever for this time of year, promising a tough winter with plenty of more volatility to come. Traders remain unsure of what Russia's supply strategy will be, given increasing political tensions with the west over Ukraine.   
Indeed, for a second day in a row, Gazprom PJSC didn't book space in a key pipeline that delivers gas to Germany via Belarus and Poland in day-ahead auctions, leaving a question mark over volumes to be delivered on Saturday.
In a late move for Friday, Gazprom booked about 30% of pipeline space to deliver gas from Russia toward Germany through Poland in within-day auctions overnight. 
"Whatever the unknown reason for the late booking is, it very clearly highlights the problem Europe is facing with rapidly falling stocks," said Ole Hansen, head of commodity strategy at Saxo Bank A/S.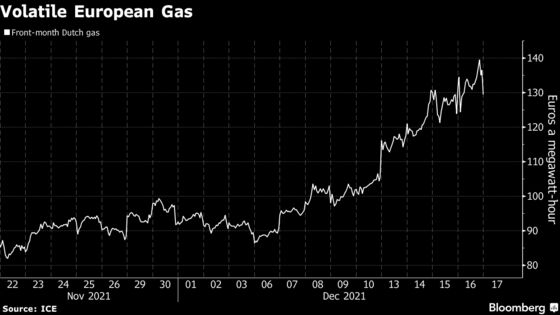 The below-normal temperatures in Europe are forecast to end by the end of the year, while the cold snap is expected to be less severe in early January, according to The Weather Co. forecasts on Bloomberg. 
Benchmark Dutch front-month gas fell as low as 120.60 euros a megawatt-hour and settled at 136.91 euros, down 4.1%. It's still up 29% this week, as Russia's supplies remain below last year's levels and its controversial pipeline Nord Stream 2 is facing delays. 
The link's second string is now being filled with gas to complete preparing the project for future operations. But starting operations soon isn't a possibility after the German regulator said on Thursday that it doesn't expect to certify the pipeline in the first half of 2022.
The U.K. month-ahead contract settled down 4.1% at 344.90 pence a therm, up for a seventh consecutive week. 
Gas shipments into Germany's Mallnow, which handles supplies from Russia via the Yamal-Europe pipeline running across Belarus and Poland, are below levels for the past two days after the recent booking but are within their 10-day average flows. 
On Monday, traders will be watching monthly auctions for transit capacity, which will give an indication of Gazprom's plans for supplies next month.
If Russia finally decides "to turn up the taps" after keeping exports limited to long-term contract obligations, Dutch gas can quickly slump toward the 80-euro level, said Hansen. 
Market news, analysis
Power Prices Plunge From Record-Highs With Volatility in View
Cold Snap in Germany to Extend into January: DWD Forecast
U.S. Gas Set for Third Weekly Decline on Milder Weather
LNG WRAP: Asia Prices May Fall After Russia Books Key Pipeline