Europe Gas Pares Gains After Manic Rally Fueled by Supply Fears
(Bloomberg) -- European natural gas steadied near a one-month high after a volatile start to the week fueled by fears of a supply shortage this winter.
Benchmark futures pared earlier gains, but are still up 19% when including a rally on Tuesday after a controversial new pipeline from Russia faced another delay in the approval process. That was a blow for energy-hungry Europe, which faces its first cold winter spell with the lowest gas stockpiles in more than a decade. 
The recent rally adds to wider inflation concerns, and Europe's consumers are bracing for high energy bills. Surging costs already pushed euro-zone inflation to a 13-year high in October, stirring fears about an economic slowdown. Inflation also spiked in the U.K.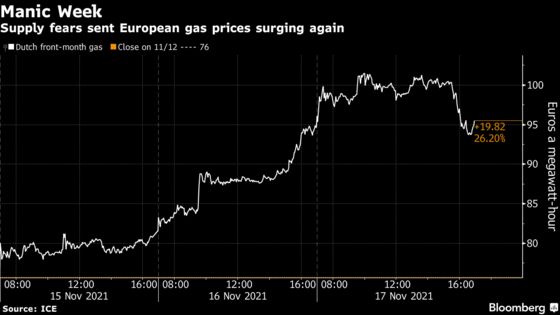 Dutch month-ahead gas closed 0.9% higher at 95 euros a megawatt-hour after hitting 101.82 euros earlier Wednesday, the highest for a front-month contract since Oct. 18. The U.K. equivalent edged 0.4% lower, erasing earlier gains, to close at 239.01 pence a therm.
Germany's energy regulator on Tuesday morning suspended the certification process for the Nord Stream 2 link until it creates a local subsidiary for the section of the pipeline in the country. Russia said it's ready to fulfill all the regulatory requirements to get gas flowing through the pipeline "as soon as possible." 
The nation expects the watchdog won't change the timing of the certification once all formalities are solved, Russian Foreign Ministry spokeswoman Maria Zakharova said Wednesday.
The new German entity is now required to restart the process of gaining a permit to run the link. It will be 100% owned by Nord Stream 2 AG, the Swiss unit of Gazprom PJSC, meaning the Russian giant is opting for full ownership instead of bringing in partners, according to a person familiar with the discussions. Certification may be completed around April next year at the earliest because of the delay, according to Norwegian consultants Rystad Energy AS.
Gas shipments from Russia have recovered after a slump at the start of November but remain low compared with last year. The country has signaled it has little appetite to boost volumes that enter Europe via other territories, noting that the start of Nord Stream 2 would ease the continent's energy crunch.
"Short-term weather forecasts point to below seasonal temperatures in Europe into early December while Russia looks set to be warmer," Ole Hansen, head of commodity strategy at Saxo Bank A/S, said in a note. "Potentially and under normal circumstances" it's a good incentive for Gazprom to ship more gas to Europe, he said. 
Yet, delays to Nord Stream 2 are fueling fears that Russia will not keep its promise of higher deliveries, Commerzbank AG analyst Barbara Lambrecht said in a note.
Gazprom will meet its contractual obligations, but any extra shipments on existing routes will depend on requests from European clients and the company's "readiness" to fulfill them, Kremlin spokesman Dmitry Peskov said Wednesday. 
Supplies may increase in the first quarter, even if Nord Stream 2 is not yet operational, as many Gazprom clients would have the flexibility to call for higher flows from January, analysts at Goldman Sachs Group Inc. said in a note. Yet, the longer the shortfall of Russian supply into Northwest Europe lasts, the more the market "will have to rely on high gas prices to generate enough demand destruction to help balance inventories through the winter," they said.
Market stories, analysis
Russia's Gas Storage Sufficient for Heating Season: Shulginov
EUROPE GAS OUTAGES: U.K.-Belgium Pipeline Shut for Maintenance
China's Gas Storage is Full But It Still May Not Be Enough: BNEF