European Fishermen Brace for Brexit
(Bloomberg) -- The Jannetje Cornelis fishing trawler was built two years ago in Spain. It's owned by a company in the Netherlands and its crew is largely Dutch. Its home port and registration are in the English city of Hull. And it frequently sells its catch in France, from where it's typically trucked to Holland for processing before being shipped to supermarkets in Italy and Spain.
"We go where the fish is, and this time of year it's in the English Channel," skipper Peter de Boor says as a light snow falls over the docks of the French port of Boulogne-sur-Mer, where he has just finished unloading five tons of squid and mullet largely caught in U.K. waters.
Boulogne, a maritime center since the Roman era, has grown into France's largest fishing port, with thousands of locals working on its 120 trawlers and in 150 processing plants. But it's also a testament to the internationalization of the industry under the EU's 1970 Common Fisheries Policy, which allows boats from any country in the union to fish in all EU waters.
Vessels from multiple European countries crowd the Boulogne docks, giving the windswept quays the feel of a 21st-century Babylon as crews hustle in the dark to unload their catch before an auction every morning at 5 AM.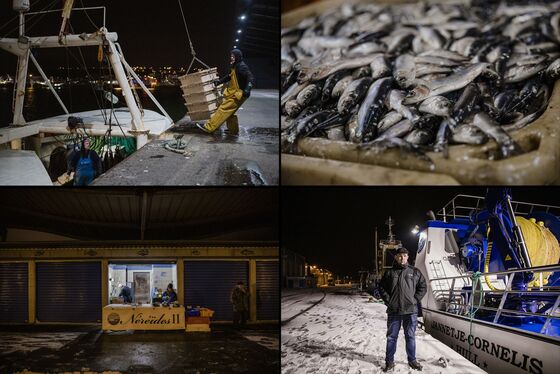 Britain's imminent departure from the European Union in March threatens that multicultural community and much of the Continent's fishing business. While Brexit would mean only one fewer country out of 28 members, the U.K. has the EU's richest fishing grounds and its second-largest fleet, after Spain.
About half the fish that arrives daily in Boulogne comes from British fishing grounds, which begin just 12 miles from the city's breakwater. Under a tentative divorce plan forged over the past two years, the current arrangements would be extended until December 2020 while an alternative is negotiated. But the British parliament on Jan. 15 voted against that deal, and if it fails to approve it or another (as yet unwritten) pact, British waters will revert to sovereign control when the country crashes out of the EU on March 29.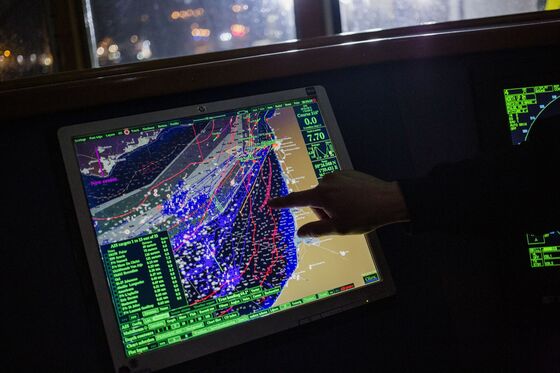 Though it's unclear what that might mean, French President Emmanuel Macron has made clear that continued access to U.K. waters is essential to any accord. British Prime Minister Theresa May, meanwhile, has insisted she won't trade away fishing rights to win concessions in other areas.
"The essentials are that the U.K. becomes an independent coastal state when it leaves the EU, but we're getting closer to March 31st without knowing which route we're taking," says Barrie Deas, chief executive of Britain's National Federation of Fishermen's Organizations, or NFFO.
Around Boulogne—and in ports along the entire northwestern coast of Europe—fishermen have made huge bets on continued access to British waters. Just before the 2016 Brexit referendum, Jean-Pierre Sagot placed an order for a new 25-meter trawler costing 4.5 million euros. Sagot, who says he spends around half his time in British waters, fears he won't be able to cover his debt payments. "We did it to leave something for our kids," Sagot says after unloading crates of squid. "Of course we're now worried. We always assumed they'd reach some accord."
British fishermen overwhelmingly voted for Brexit, expecting restrictions on boats from the Continent to reinvigorate their business. U.K.-flagged vessels landed about 1 million tons of seafood in 1973, the year the country joined the EU. By 2016, that had fallen to 550,000 tons, while non-British boats caught 800,000 tons in the country's waters, according to the U.K. Marine Management Organization. British fishing associations say the government should emulate Norway, which annually negotiates access to its waters and bars boats from countries it doesn't have a deal with.
"We'd like to see an accord that exchanges resources equally," says Aaron Brown, a fisherman from the Scottish port of Ayr and founder of Fishing for Leave, a group that campaigned for Brexit. "But the free lunch of taking 60 percent of our fish has to end."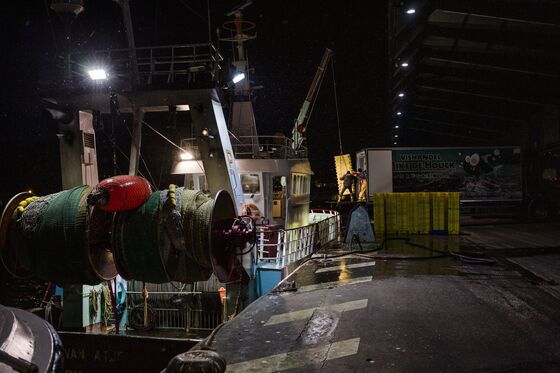 That train of thought irks Daniel Fasquelle, a member of the French parliament from the Boulogne area. While Continental fleets may have made things tougher on British fishermen, he says, that's what the EU is all about—a give-and-take in which the most efficient prevail, to everyone's benefit. "You could ask whether it's fair that the City of London gets access to all of Europe," Fasquelle says. "The U.K. doesn't consume anywhere close to all the fish that's taken in its waters. They need access to our markets."
Indeed, four-fifths of Britain's shellfish and 60 percent of its whitefish end up on Continental plates, according to the NFFO, and Gerard Maubert has long depended on that trade. For the past 35 years, Maubert's family has run C2MC, a trucking line that buys fish in Britain and transports it to Boulogne for processing, and he's concerned that Brexit will mean increased sanitary checks and duty payments.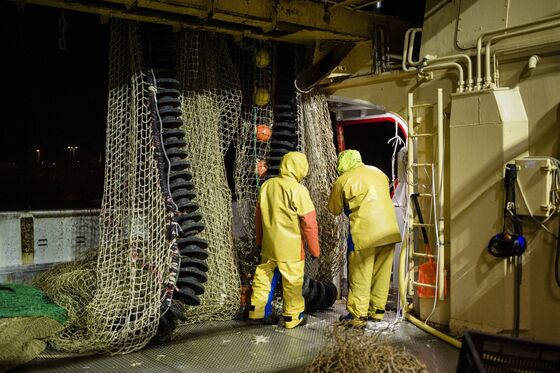 He reckons that after tariffs and the extra staff needed to handle paperwork, the cost of moving a truckload of fish from Britain to Boulogne will triple, to 750 euros. "Dealing with Britain is going to be like dealing with China, even though they're our neighbors," Maubert says. Perhaps worse, bureaucratic hassles will likely add a day to the process—an eternity when you're dealing with a product that has a shelf-life of only a few days.
Disputes over fishing rights risk escalating into serious conflicts. Last August, French fisherman rammed British ships to keep them from taking scallops from French waters out of season. While the confrontation had nothing to do with Brexit, it illustrates how seriously the players take the issue of access.
"No one knows what's going to happen," says Pierre-Yves Dachicourt, captain of Pax Dei, a 24-meter trawler unloading three tons of squid. "All we know is that the fish don't care about the border and there's not enough space on the French side."