The Slowdown in Europe Should Give the Fed Pause
(Bloomberg Opinion) -- The Federal Reserve's confidence in its policy of interest-rate hikes was undoubtedly bolstered by last week's report of a strong U.S. economy. Look to Europe, however, and there are reasons to doubt that confidence.
Economic growth in the Euro area was just 0.2 percent in the third quarter, it was reported this week, half of what had been forecast and in stark contrast to the U.S. rate of 3.5 percent. This comes after a less dramatic but equally worrying decline in Chinese growth reported earlier this month. In both Europe and China, slowing international trade was cited as a key reason.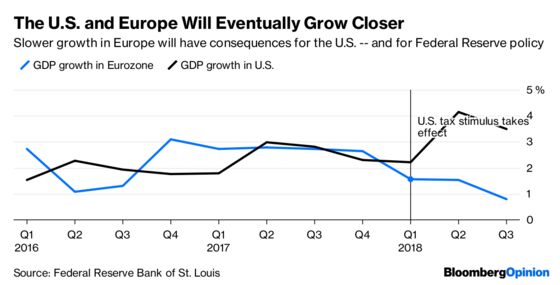 In fact, some of that same weakness is also evident in the details of the U.S. report. There was a strong increase in imports, which is not unusual when the economy is doing well and consumer spending is healthy. But it was accompanied by a troubling decline in exports, the total value of which fell by $23 billion. GDP growth would have been 5.4 percent without this combination of more imports and fewer exports.
Weak export growth in any single economy could be a fluke. A simultaneous weakness in the world's three most important economies makes it clear that the Trump administration's trade war is dampening global growth.
So far at least, stimulus from the tax bill passed last year has helped the U.S. avoid the slower growth infecting the rest of the world. After a slight pause in the first quarter, year-over-year growth in consumer spending has continued.
That stimulus, however, will fade in the coming year. If global growth continues to decline, there could be a repeat of the so-called shadow recession of 2016, when slow growth abroad caused a fall in the price of oil and agriculture products, leading to a sharp decrease in investment in the U.S.
The housing market, which typically leads the economy in and out recessions, is already showing signs of weakness. New home sales have continued to slow over the past few months and residential investment fell 4 percent in the third quarter.
All three factors — slowing export growth, a decline in consumer spending and continued weakness in the housing market — will present real problems for the U.S. economy in 2019. The Fed should strongly consider pausing its planned interest rate hikes until more information is available about how these developments are affecting the economy.
This column does not necessarily reflect the opinion of the editorial board or Bloomberg LP and its owners.
Karl W. Smith is a senior fellow at the Niskanen Center and founder of the blog Modeled Behavior.