Risky Loans for Buyouts Strike Hot Market Before U.S. Election
(Bloomberg) -- High-risk U.S. borrowers are rushing to lock down cheap funding for buyouts and dividends ahead of any potential election-related volatility.
Acquisitions account for about a third of this month's leveraged loan volume, up from 13% in September. Pricing on new deals is back to pre-pandemic levels as demand gets a boost from rising issuance of collateralized loan obligations, the biggest buyers of leveraged loans.
Buyout funding for 1-800 Contacts Inc. closed last week at much better pricing for the borrower and less than a month after the deal was announced -- fast for the leveraged loan market. Advantage Sales & Marketing Inc. also moved swiftly to fund a merger with Conyers Park.
"Capital is widely available and remarkably cheap. Plus, in a world without growth, M&A becomes increasingly important," said Michael Terwilliger, a portfolio manager at Resource Credit Income Fund, which buys bank loans.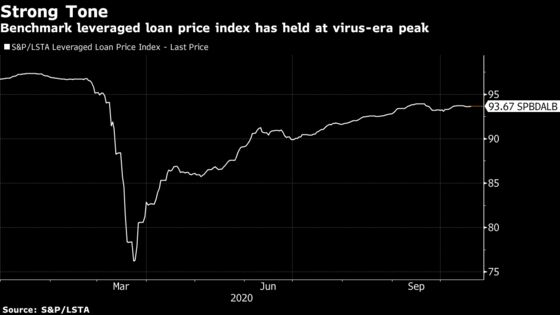 Borrowers are cranking out deals in the final run-up to the U.S. presidential election, particularly if they fear a Joe Biden administration would crack down on leveraged lending, in a reversal of the last four years. Given demand for risk assets and uncertainty ahead, banks that underwrote the debt may take the opportunity to sell.
Sales of risky dividend and second-lien deals are also picking up.
In high yield, Highland Holdings is selling pay-in-kind notes and Restaurant Brands is also issuing.
In the investment-grade market, the World Bank is doing a benchmark-sized sale and United Airlines Holdings Inc. is pricing an EETC sale
For deal updates, click here for the New Issue Monitor
For more, click here for the Credit Daybook Americas
Europe's bond issuance surpassed 1.5 trillion euros ($1.77 trillion) for the year, pushed over the line by a 17 billion euro offering from the European Union. Meanwhile, the stock of negative-yielding euro-denominated corporate bonds hit $1 trillion, reflecting a collapse in underlying government yields as investors seek safe havens.
Credit risk gauges rose for a second day amid uncertainty over a U.S. stimulus package and fraught exchanges between the U.K. and EU over their future relationship
Italian insurer UnipolSai sold a 500 million-euro restricted Tier 1 note, with marketwide daily issuance hitting almost 19 billion euros
Eurotunnel operator Getlink held an investor call Tuesday for a new 700 million-euro green bond issuance
Ukraine's State-controlled energy company Naftogaz Ukrainy pulled a $500 million bond sale late on Monday
At least five Asian borrowers were marketing dollar bonds on Tuesday, rushing to tap a window for issuance before next month's U.S. elections