Europe Just Got a Bad Omen for the Economy in 2019
(Bloomberg) -- Want the lowdown on European markets? In your inbox before the open, every day. Sign up here.
European car sales declined for a fifth straight month in January in a worrying show for the continent's economies battling a technical recession in Italy, uncertainty over a snap election in Spain, and the U.K. coming no closer to a deal on Brexit.
Passenger car registrations dropped 4.6 percent compared with last year to 1.23 million vehicles in the European Union and European Free Trade Association, the European Automobile Manufacturers Association said Friday. Sales declined in all of the region's largest markets of Germany, France, the U.K., Italy and Spain, making European autos this month's worst performers in the group of SXXP Europe indexes.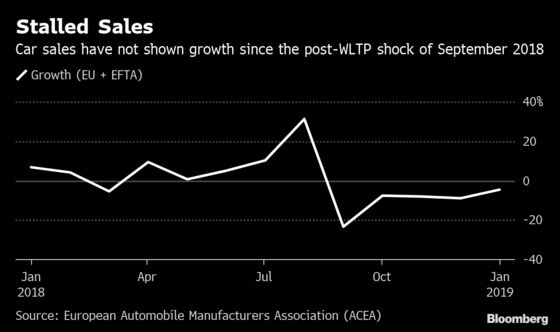 What started last year with wild sales gyrations around the September introduction of new emissions tests has turned into a broader slowdown. Germany, Europe's largest economy, narrowly avoided a contraction at the end of last year with economic jitters since intensifying. At its January meeting, the ECB indicated the balance of risks to its forecasts has shifted to the downside.
"The EU auto-demand cycle has peaked," Bloomberg Intelligence analyst Michael Dean said in a note, while IG Metall, Germany's most powerful labor union, predicted employment in the country's car sector would top out in 2019.
Among the five major European markets, Spain saw the steepest decline in registrations with a drop of 8 percent, as car demand in Italy slumped 7.5 percent, according to ACEA. Spain is headed back to the polls after the budget was rejected.
Audi and Porsche, two Volkswagen AG profit drivers, saw double-digit percentage declines. The world's biggest carmaker has significantly struggled to ready vehicles for the new emissions testing regime, meant to more closely reflect real-world driving, hampering production and sales.
Carmakers are facing added problems in the event of a no-deal Brexit. Renault SA this week warned it would only be able to meet its forecasts if the U.K. leaves the European Union with a deal. Ford Motor Co. said earlier this week a hard Brexit would be "catastrophic" for the country's automotive sector and its own factories.
European carmakers are also bracing for the next chapter in Trump's effort to rewrite American trade policy that may be delivered later this week. Commerce Secretary Wilbur Ross is set to conclude by Feb. 17 an investigation examining the national-security risk of auto imports. He'll formally submit the report to the president and offer recommendations on what actions to take. Higher U.S. import tariffs would hit Germany's carmakers, led by the Porsche and Audi brands, especially hard.
Some reprieve might come in the form of an extension of a March 1 deadline for higher tariffs by the U.S. on Chinese imports, which the country is considering, people familiar with the matter said Thursday. The tensions have weighed on BMW AG and Daimler AG in particular, which ship American-made SUVs into China.
While carmakers catch a cold in Europe, manufacturers will closely watch China for the world's biggest auto market showing signs of recovery. China Passenger Car Association is scheduled to report January sales numbers on Monday, a report set to shed light on whether the country has continued its decline after its first annual slump in more than two decades. While China's auto market has contracted overall, sales of luxury vehicles have so far held up.