European Banks Present Clean Sweep of Consensus-Beating Results
(Bloomberg) -- A brightening pandemic outlook and soaring trading income are setting up a clean sweep for European banks this earnings season.
All of the top-tier lenders in the region that have reported first-quarter results so far have beat analyst expectations for their bottom line. Most cited falling credit provisions and booming revenue from buying and selling securities.
For some, including ING Groep NV, subsidies from the European Central Bank also played a significant role.
Europe's banks set aside billions of dollars last year to brace for an expected wave of defaults as large swathes of the economy were shut down to stem the spread of Covid-19. But massive relief from governments and central banks has shielded companies from the impact so far and many now expect the ultimate level of defaults to be lower than previously feared.
"The pandemic continued to impact our lives, though looking at the results, you wouldn't necessarily think that we're still in a crisis," ING CEO Steven van Rijswijk said on a conference call with analysts on Thursday after the lender's net income beat even the highest analyst estimate.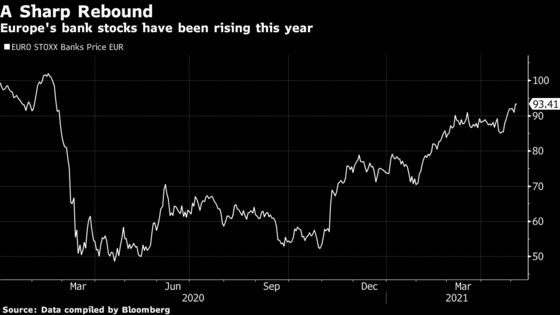 Two other large European lenders, UniCredit SpA and Societe Generale SA, reported on Thursday. The Italian bank's net income was double and the French lender's was triple what the consensus had forecast.
Euro-area lenders have also benefited from generous loan conditions from the central bank. ING said Thursday that it booked a 233 million euro benefit paid by the ECB on longer-term refinancing loans during the quarter. Those payments are an incentive to keep banks funding the economy during the pandemic.
The relief from the public sector has fired up bond issuance and it has driven many key equity indexes to fresh record levels, boosting activity in the trading units of many banks.
The surprisingly positive set of first-quarter results by Europe's banks has also boosted their valuations. Many stocks have almost returned to pre-crisis levels after the deep trough in the immediate aftermath of the first pandemic shock last year.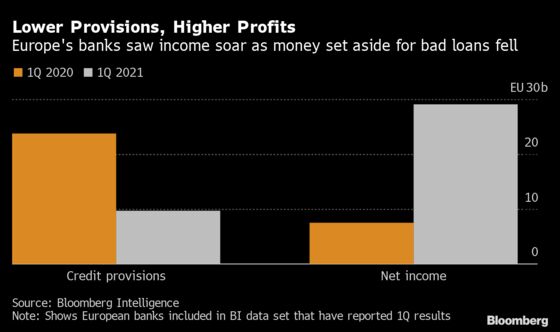 Even Credit Suisse Group AG, which ran up the costliest tally of all from the collapse of Archegos Capital Management, beat analysts' lowered bar.
The question now is how long the trading boom will last and just how bad bank will be hit when corporate defaults ultimately start picking up after all.
While several bank heads have said that they expect some loan impairments this year, most have also said that credit provisions will stay below last year's levels. Still, regulators are skeptical.
"We are still not seeing the peak in the materialization of credit risk so it's early to take excessively positive steps" on lowering credit provisions at banks, Andrea Enria, the head of the European Central Bank's supervision arm, told Reuters in an interview. "There could be banks that are really trying to sweep problems under the carpet."
Moreover, the strong results in the first quarter have led lenders including Deutsche Bank AG to increase their outlook for trading revenue in the full year even though they continue to see a slowdown at some point.
"Market conditions were very positive in the beginning of the year, and there's always a seasonality," Societe Generale Chief Executive Officer Frederic Oudea said in an interview with Bloomberg TV on Thursday. "But we are confident for the overall year."