European Banks Are Cheap So Investors Should Pile In, Citi Says
(Bloomberg) -- Investors should ignore the uncertainty in European banking in the coming days and weeks and just snap up the shares, according to Citigroup Inc.'s strategist Jonathan Stubbs, who's been bullish on the industry since early September.
The gap between bank stocks and credit has widened aggressively, which along with "rock-bottom" price-to-book valuations is a strong signal to buy, Stubbs said in note to investors. In Citigroup's base case of a continuing economic cycle and higher interest rates in the region, European banks have significant upside along with equities in the next six to 12 months.
Citigroup isn't alone. UBS Group AG and Morgan Stanley last quarter noted an attractive value in banking shares, though held back from calling the industry an outright buy because of a lack of catalysts and a potentially tough summer ahead.
More analysts have since followed, with Goldman Sachs Group Inc. highlighting that European lenders with significant investment-bank divisions were able to close the return gap with their U.S. peers. French broker Oddo upgraded the industry to overweight and Credit Suisse Group AG strategists said that European banks' high dividends relative to the broad market may be a signal for a strong outperformance.
This year is no walk in the park for Europe's banks. Stocks almost made a new year's low on Monday amid the Italian budget discussion, just days after it looked like the downtrend was finally broken. The sector has been unusually burdened in the past three months by low quality second-quarter figures, financial-market and political turmoil in Turkey and a money-laundering scandal that threatened Denmark's credit rating.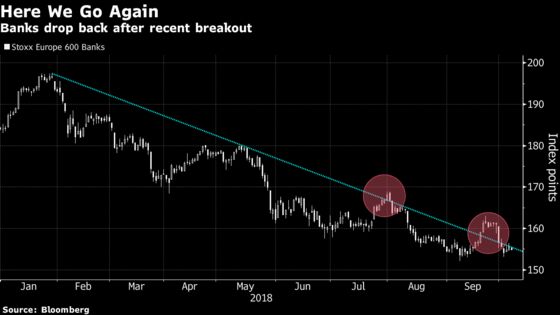 Hence investors are not jumping on the bandwagon yet. A Barclays survey in mid-September showed about a third of investors were "very underweight" in European bank shares, with 37 percent responding that the stocks will remain underperformers over the next 12 months. The $1.3 billion iShares MSCI Europe Financials ETF saw some inflows in September, but overall the last quarter remained negative, with about $256 million leaving the ETF.
DWS's head of multi asset solutions, Christian Hille, said in a Bloomberg TV interview Tuesday that it is very tempting to invest given the cheap book values. "But I don't see an immediate need to be the first to go into the sector as there still will be increased volatility in the coming months," Hille said.
Stubbs acknowledges that there's evidence that investors have reduced their allocation to European banks and warns that equity investors aren't positioned for inflation or higher rates, which presents risk.