Europe Tiptoes Toward New Normal as Spain Keeps Schools Shut
(Bloomberg) -- Europe took another step toward life after lockdown as France, Spain and Greece unveiled details of how they plan to emerge from the coronavirus and cautiously restart economies crippled by the pandemic.
In Paris, Prime Minister Edouard Philippe announced plans to reopen stores starting on May 11. Spanish counterpart Pedro Sanchez said he aims to remove most restrictions on daily life and return to a "new normality" over the next eight weeks. Schools in Spain, though, will remain closed until September.
A clearer picture is now emerging of how Europe aims to ease its way back toward some semblance of normality, though governments have stressed that there's still a long way to go before coronavirus is beaten. With the absence of a vaccine, all countries are trying to strike a delicate balance between reviving businesses and household finances while averting a potentially devastating second wave of infections.
"We must follow a fine line: too carefree and the epidemic restarts; too cautious and the entire country sinks," Prime Minister Edouard Philippe said as he outlined the measures in a speech to parliament on Tuesday. "We must protect French people without immobilizing France to the point of collapse."
Lockdown measures shuttered factories, halted travel and kept millions of people largely confined to their homes. The fallout is spurring talk of recovery efforts on the scale of the post-World War II reconstruction. But after more than 120,000 deaths on the continent, officials remain wary of decisions that could see them risking lives.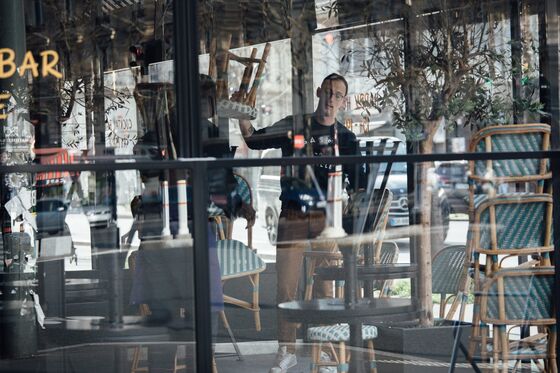 Philippe said French restaurants and cafes may be allowed to reopen from June 2, and pupils can start returning to school from May 11 but with strict rules. Public events of more than 5,000 people are outlawed until September and working from home is encouraged for at least three more weeks, he said.
The tourism industry is likely to continue to suffer, as beaches won't reopen until at least June 1, parks and gardens will be accessible only where virus infections are low, and inter-regional travel will be discouraged.
In Greece, whose economy depends more than most on tourism, the message was you can get your hair cut but it will take weeks before the hospitality industry can open. That's despite a death toll far below many of its European counterparts.
Prime Minister Kyriakos Mitsotakis announced the gradual lifting of restrictions starting from May 4 with small retail outlets such as bookshops and sports stores, followed by the gradual opening of schools. Some hotels and restaurants can resume business on June 1.
"We are returning, but we are careful," Mitsotakis said in a nationally televised address on Tuesday. "There is no return to a pre-coronavirus reality," he warned.
The lockdown has helped to contain the virus in France, with admissions at intensive-care units declining, according to the authorities. The disease has so far killed more than 23,000 people there, making it a European hotspot along with Spain, Italy and the U.K., whose death toll passed 20,000 at the weekend.
Germany's daily increase in cases rose on Wednesday, after dipping below 1,000 for the first time in more than five weeks the previous day. Chancellor Angela Merkel is scheduled to consult with state premiers on Thursday on whether to further relax restrictions on public life.
Sanchez, the Spanish premier, said his government would follow the data and the lifting of restrictions, among the toughest in Europe, won't adhere to a strict calendar. He already said that from May 2 people will be allowed to exercise outdoors and go for walks with family for the first time since the state of emergency was declared March 14. Children were allowed out in the company of one adult already from Sunday.
Neighboring Portugal, which has been less affected by the outbreak, will announce on Thursday which businesses can resume from May 4, with confinement measures to be eased gradually every 15 days.
In Germany, which has been among the most aggressive on testing, the government emphasized that tracking Covid-19 cases will dictate how it moves further to get back to normal. The country's reproduction factor -- a means of gauging how successfully countries have kept the virus in check -- edged up to 1.0 on Monday from 0.9 the previous day.
"I plead for understanding that now when contagion rates have again increased that we need to proceed very, very cautiously so that we don't have to take back all the easing steps," Economy Minister Peter Altmaier told ARD television.
In the U.K., the focus is on ramping up testing before any move to end the lockdown. The current measures are due for review by May 7. Prime Minister Boris Johnson, who returned to work this week after Covid-19 landed him in intensive care, has said he's not prepared to risk a second outbreak.
Daily testing capacity is now up to 73,400, Health Secretary Matt Hancock said on Tuesday. The government's target is to increase it to 100,000 by the end of the month.