Russia to Fix Oil Pipeline Contamination Crisis in Two Weeks
(Bloomberg) -- Russia aims to restore normal oil flows through a major pipeline to eastern Europe in two weeks, after a chemical contamination that forced refiners to stop taking crude deliveries.
Supplies of untainted crude will reach the border of Belarus by April 29, Russia's Deputy Prime Minister Dmitry Kozak said in a statement on Friday. Ukraine, which is further along the 5,500-kilometer (3,420-mile) network, said it expects to receive clean oil by May 3.
These are the first signs of resolution for an escalating crisis that choked off one of Europe's main sources of crude and helped lift prices to a six-month high. Although refiners in countries including Poland and Germany will suffer a lengthy disruption to their feedstock, several companies said they had sufficient inventories to see them through.
Talks in Minsk on Friday between officials from countries along the crucial oil conduit agreed on a technical solution that's now under review, Poland's pipeline operator said. Separately, Russia's pipeline operator Transneft PJSC said it had identified the source of the contamination, blaming a private storage terminal in the center of the country for feeding chlorides into the pipeline.
Russian President Vladimir Putin said he discussed the contamination with his Belarusian counterpart Alexander Lukashenko. Law enforcement may become involved in the investigation if necessary, Putin told reporters Saturday at the Belt and Road forum in Beijing.
Russian Prime Minister Dmitry Medvedev instructed trade and energy officials to conduct quality checks within seven days on crude transported to Belarus and Europe, and to send materials to prosecutors to "punish those responsible for violations," according to an order posted on the government website.
Pumping through the southern section of the Druzhba pipeline into central and eastern Europe was halted overnight, Ukraine said. That brought the link to a complete stop since the larger northern branch of the link through Belarus into Poland and Germany had already shut down. Europe will be deprived of least 1 million barrels a day of crude flows for the duration of the outage.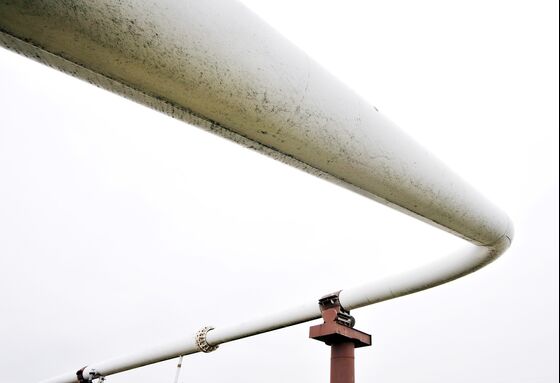 The halt comes at a critical time for a global oil market that's been hit by restricted supplies of so-called heavier crudes from the likes of Iran, Venezuela, Canada and even Mexico. That's on top of a pact by producers including Saudi Arabia and Russia to collectively limit production that's seen prices steadily rising for several months.
While the shutdown was initially bullish for oil prices, early fears about the impact may have been overblown, according to PVM Oil Associates Ltd. in London.
"Refineries usually hold ample crude stockpiles to guard against such disruptions," analyst Stephen Brennock said in a research note. "Little wonder then that the initial knee-jerk price reaction petered out."
After rising above $75 a barrel on Thursday for the first time since October, international benchmark Brent crude slumped 3.9 percent to $71.47 at 6:04 p.m. in London on Friday.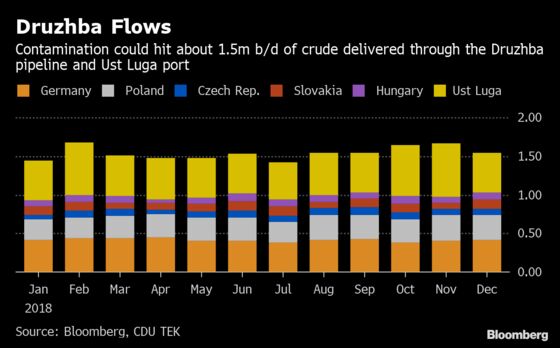 The piped oil became tainted by organic chlorides that, when refined, become hydrochloric acid that can damage the plants. The issue, first raised by Belarus last week, has also affected supplies from the Russian port of Ust-Luga in the Baltic Sea, according to a person familiar with the matter. There are no signs that shipments from Novorossiysk or Primorsk, two other Russian tanker-loading facilities, have been disrupted.
Prices for crude from Primorsk, which is also in the Baltic Sea, surged to the highest observed by Bloomberg since at least August 2013, while two cargoes from Ust-Luga didn't find buyers, according to traders familiar with the matter. Transneft said it's screening cargoes from the port but they're not exceeding contractually agreed amounts of organic chlorides, even if levels are elevated.
In a sign that oil traders were scrambling for replacement barrels, the premium for Brent crude for immediate delivery over supplies in six months time surged to as much as $3.25 a barrel on Thursday, the widest spread in about five years. The gap narrowed to $2.70 on Friday.
Organic chlorides are not naturally occurring and are used in upstream processes to boost output, "but must be removed before bringing crude parcels to market," said Amrita Sen, chief oil analyst at consultant Energy Aspects Ltd.
The northern part of the pipeline delivered about 730,000 barrels a day of crude to Germany and Poland in the final five months of last year, Russian Energy Ministry data show. As much as 1.5 million barrels a day are at risk, according to data compiled by Bloomberg. That equates to about a 10th of Europe's entire consumption -- and more for the countries directly affected.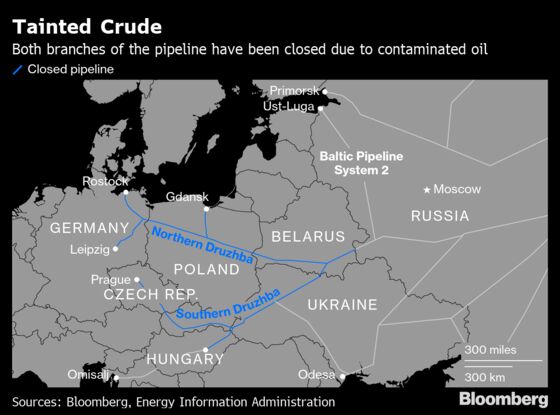 The Druzhba pipeline divides in Belarus, with the southern section supplying refineries in countries including the Czech Republic, Slovakia and Hungary.
Belarus, which sits between Russia and Poland, complained late last week that its refineries could suffer damage from the contamination. There are nearly 1 million tons of Russian crude in Belarus's territory, Andrey Rybakov, chairman of state-run oil company Belneftekhim, said at a briefing in Minsk on Friday. The country will normalize its refinery operations in May, he said.
The PCK-Schwedt refinery on the German-Polish border has enough crude stocks for 10 days, spokeswoman Vica Fajnor said by phone on Friday. The plant could get substitute supplies from the Baltic port of Rostock before those inventories are exhausted.
Germany's energy security won't be affected by the incident and the country has a 90-day oil supply in reserve, the Economy and Energy Ministry told Bloomberg.
Poland's biggest refiners, Grupa Lotos SA and PKN Orlen SA, said Thursday their productivity won't be affected.
Supplies of oil and refined products to the Polish market will be maintained from stockpiles until the situation is resolved, according to PERN, the nation's pipeline operator. If the halt is prolonged, the refiners could import crude through the Gdansk port on the Baltic Sea, it said.
While the contamination threatened refiners, analysts saw few risks for Russian oil producers, unless the situation lasted for more than a couple of weeks.
"Russian oil producers can raise their export volumes to Europe via domestic sea ports, or in the worst case resume shipments via ports of the Baltic states," said Andrey Polischuk from Raiffeisenbank in Moscow. "So the halt in Druzhba shipments are unlikely to have any visible impact on our output at all."
If the pipeline were fully shut down for more than a few weeks, producers may need to start looking into additional output cuts, said Ildar Davletshin, an analyst at Wood & Co. in London.