Europe's Phone Carriers Slump as Investors See No Relief
(Bloomberg) -- Europe's phone companies are in a rut and investors are taking note.
Gloomy prospects are dragging down carrier stocks, making the sector the worst-performing in the Stoxx Europe 600 Index over the past two years. Carriers including Vodafone Group Plc, Telecom Italia SpA and Telefonica SA have struggled to turn demand for mobile broadband and faster, fiber-fueled, internet services into revenue growth because of intense competition in many local markets, which often have three or even four rivaling phone companies.
The companies are spending billions of euros to update networks with fiber and gear up for the latest wireless technology, which they hope will unlock fresh revenue streams and free capacity. All that investment could bring debt levels higher, and negative sentiment hit a fever pitch last month as the main index for the industry hovers near a five-year low.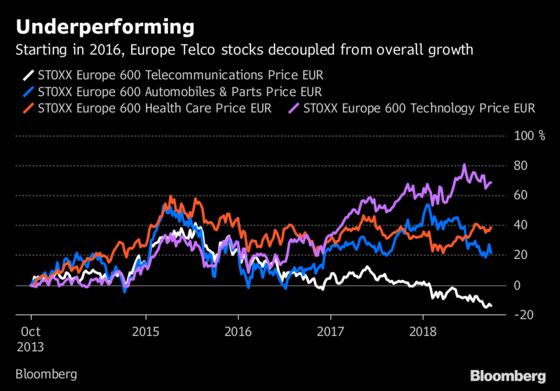 More for Less
In countries including the U.K., Netherlands, Spain, Italy, France and Sweden, network operators have been offering ever-larger bundles of data, or even an unlimited supply, while keeping customer bills mostly unchanged.
In Britain, CK Hutchison Holdings Ltd.'s Three offers 100 gigabytes and free text messages in a 12-month contract for 20 pounds ($26) a month. In Sweden, Tele2 AB is offering unlimited data and phone calls for 499 kronor ($56) a month without locking in users and rivals aren't much more expensive.
Plans like these have kept revenue per user flat at best. There's little to indicate that the negative revenue trend will reverse, even with the next generation of mobile networks, Bengt Nordstrom, CEO of telecom consultancy Northstream AB, said at a seminar in Stockholm Thursday.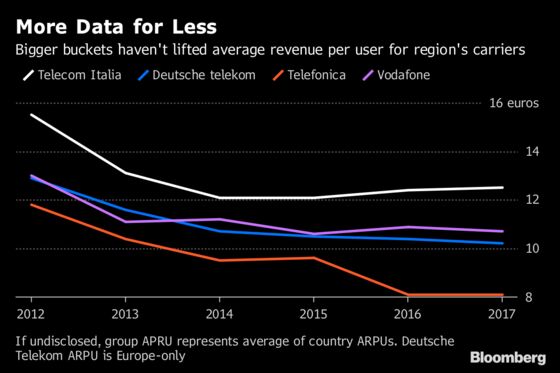 Carriers have insisted for years that Europe's playing field is too crowded. With a population of 508 million, the European Union has at least 20 major carriers, and dozens of smaller players. That compares with just four big wireless providers in the U.S., which has a population of 326 million.
The EU's regulators have blocked consolidation in the U.K. and Denmark, citing concerns that less competition will mean higher phone bills for consumers. In Italy, regulators allowed a mobile tie-up, but squeezed hefty concessions that let Iliad SA enter the market as a fourth provider. Deutsche Telekom AG's acquisition of Liberty Global Plc's fixed assets in Austria was approved this year, but the German company is facing European Union objections to a planned tie-up with Tele2's Dutch mobile-phone business.
Nordstrom said there also appears to be a lack of understanding about the importance of technological leadership among European politicians, as China and the U.S. race ahead in deploying 5G.
"There is an obsession with the idea that the most important thing is that mobile broadband is inexpensive," Nordstrom said. "I'm deeply concerned; we're losing our mobile technology leadership in a big way."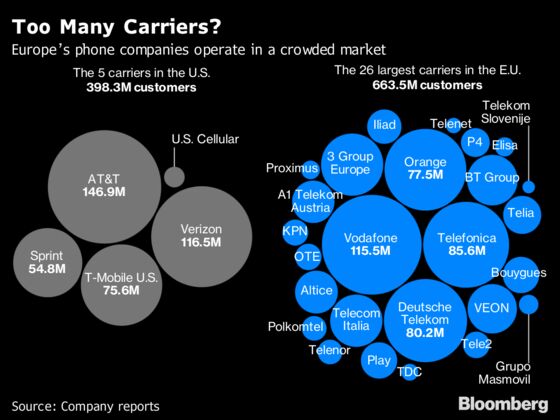 Meanwhile, rising spending on broadband infrastructure, wireless frequencies and exclusive media content such as sports rights have increased debt levels. An ongoing Italian auction has fetched 5.96 billion euros for the government as companies pile into the new technology.
While most companies are leveraged at "acceptable" levels, a few are worse off, including Telecom Italia SpA and Telefonica, according Erhan Gurses, an analyst at Bloomberg Intelligence. With a wave of further auctions for 5G approaching, that situation is unlikely to change soon.
Telecom Italia declined as much as 4.2 percent in Milan on Monday following cautious analyst commentary on the costlier-than-expected spectrum auction in Italy.
Telecom Italia Drops as 'Crazy' Spectrum Auction Bids Hurt Value
The debt isn't just weighing on balance sheets, but has also fostered a "defensive mentality that has stifled entrepreneurial thinking," JPMorgan Chase & Co. analysts led by Akhil Dattani said in an emailed note.