Europe's Hottest Building Market Needs Workers to Come Home
(Bloomberg) -- Five flights up a concrete skeleton, Vasile Kocori's crew scrambles to lash hundreds of steel reinforcement bars for the next section of yet another high rise that will grace the skyline of Bucharest.
Battling the stiff wind and dizzying heights to form the rebar cage might have been hard enough, but Kocori's other challenge was to find the dozen or so workers who could actually do it in the first place. He ended up culling those with the most skills from other projects and then directing the less experienced ones to other building sites across the sprawling Romanian capital.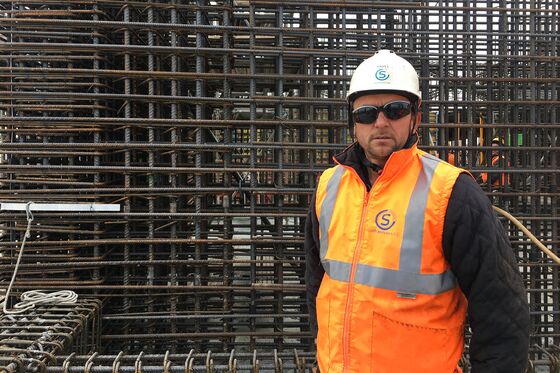 "This site is the priority," said Kocori, the foreman of a sub-contractor at Skanska Property Romania's 37 million-euro ($42 million) Equilibrium project comprising two 11-story office towers. "Half the guys I have can do the job," he shrugged, "while the other half need more training."
It's a juggling act that's become so prevalent across eastern Europe that a labor shortage now threatens to put the brakes on the continent's fastest growing construction market with potentially damaging repercussions for economies. The rise of nationalism in places like Poland and Hungary, meanwhile, has led to hostility to the kind of immigration that could help fill the vacuum.
Workers have been migrating west in search of better pay for years even as money has flooded east and transformed former communist metropolises like Bucharest, Budapest and Warsaw. The exodus since the European Union started expanding into the former eastern bloc in 2004 totals more than 5 million for Poland and Romania alone and made their builders ubiquitous in cities like London, Berlin and Madrid.
The conundrum is how to bring them back. Wages are rising but still remain nowhere close to what people can make in western Europe and there aren't enough newly qualified workers coming into the job markets. Then there's competition among the countries themselves.
Austrian company Strabag AG's project to build the 50 million-euro, 22,500-seat stadium for the Slovak national soccer team in Bratislava relies on pipe fitters, welders, plasterers and window installers from nations including Bulgaria and Romania to augment local crews. Pop songs in different languages blare from portable players.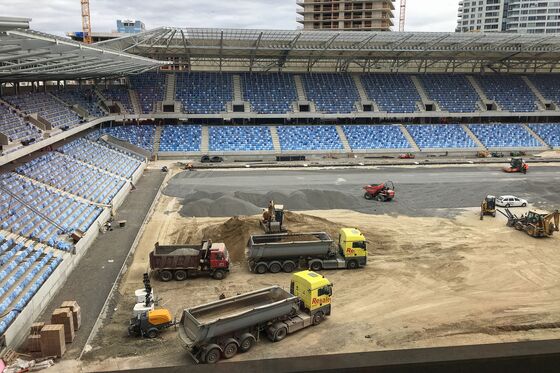 Tight deadlines have forced builders to go abroad and hire workers with little or no construction experience, such as cooks, said project director Juraj Bacmanak. Just in Bratislava, a slew of sites "means a need for 25,000 carpenters," he said, "who are not here."
Skanska AB, which has 300 projects across the region, sees similar challenges in every nation, according to Michal Jurka, the Swedish company's chief executive officer for the Czech Republic, Slovakia, Hungary and Romania. "We are in the peak period in commercial real estate," he said. "In all markets, we clearly see the local work force is not sufficient due to the boom."
The relative poverty gap between Europe's east and west remains stark. World Bank numbers show gross domestic product per capita in Poland and Hungary remain significantly below half the EU average, albeit before adjustments for the cost of living.
The average take-home annual salary in Romania is about 20 percent of the EU mean and 35 percent in Poland, based on the latest Eurostat figures. At the current trajectory, it would take 59 years for Polish salaries to catch up, a report by consulting company Grant Thornton said last week.
Statistics published this week, though, show that the vast majority of Poles are no longer considering emigrating while the number of east European citizens working in Britain dropped by 15 percent in the latest three-month period as the country gets closer to leaving the EU.
Disparities helped feed nativism and protectionism in the region. Polish Prime Minister Mateusz Morawiecki has called on Poles to return and help champion his "economic patriotism." He said Poland no longer could just be a place western Europe can just take what it wanted, criticizing foreign companies for "colonizing" his country.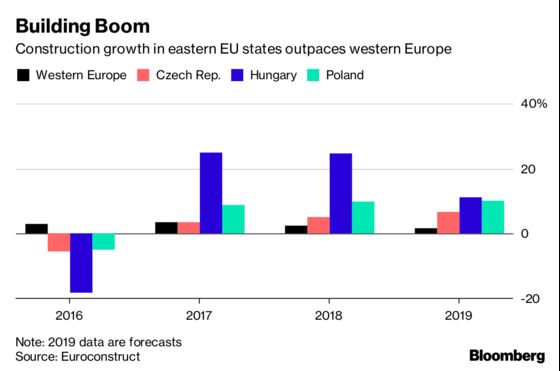 But underpinning that narrative is the need to keep the economy growing, and builders are vital as the EU invests in infrastructure such as road, airports and sewage and private developers put up office towers. Poland, the region's biggest country, gets more money from the EU on a net basis than anywhere else in Europe and now is intent on building Europe's largest airport from scratch.
Indeed, contractors are racing to keep up with the strongest demand in a decade for new commercial property as companies expand production or ditch outmoded downtown buildings for modern high-tech facilities.
Hungary, which is set to have the fastest construction growth in Europe through next year, and Slovakia are bolstered by massive infrastructure projects. The Czech, Polish and Romanian markets are fueled by the need for offices, factories and distribution centers amid strong consumer demand.
Real estate companies Colliers International and Cushman & Wakefield estimate that more than 5 billion euros was invested in commercial real estate in the first half of this year and will surpass 2017's total of 13 billion euros.
"We're building an awful lot, and it's still not enough," said Michael Smithing, a director at real-estate consultancy Colliers International's office in Budapest. "The developers are building and building and building, and it's hard for them to do that and it's expensive."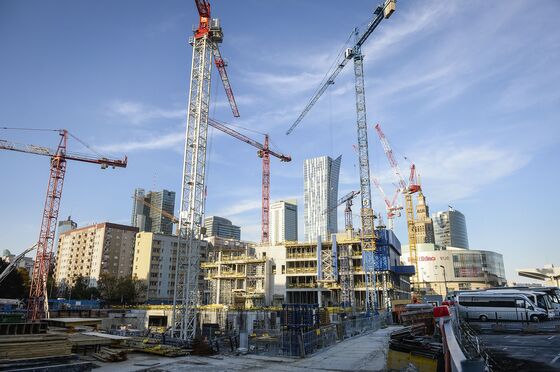 That raises the risk of squeezed margins, profits and project delays as contractors search for qualified workers, who demand higher wages at a time when materials costs are beginning to soar.
Skanska so far has enough people to get the job done, though is implementing "clear risk management measures," such as not overextending on new projects, regional CEO Jurka said. Spreading the net for new workers is extending into Asia, with plans to bring in crews from countries such as Vietnam and the Philippines, he said.
The trick is to be able to meet labor demands while keeping wages under control, said Thomas Birtel, CEO of Vienna-based builder Strabag. His company counts on central and eastern Europe for 22 percent of its business.
"The biggest stress we see is in Poland, but there are also signs of a drought in the labor market in Hungary and Romania," said Birtel. "What we have been seeing in all of the countries is a sharp increase in wages, not just the overall increases because of labor unions."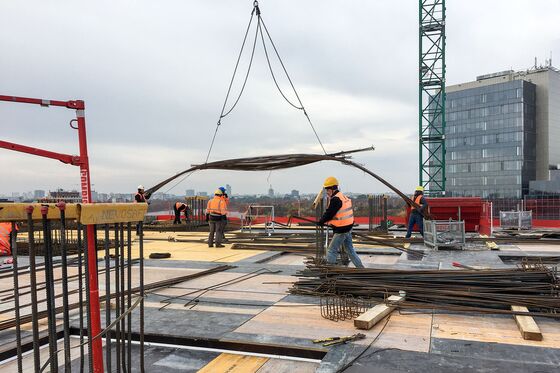 In mid-town Bucharest, Tel Aviv-based Hagag Development Europe is the midst of gutting a former oil company headquarters and transforming it into a modern seven-floor office building with an 8 million-euro rehabilitation – all with 35 workers onsite. 
Project manager Alexandru Draghici said that the crew, all Romanians for now, may change as a decline in skill levels is exacerbated by an unwillingness to do "dirty and unappealing" labor. The young men hauling wheel-barrows full of debris outside the dusty building site are from small villages and have yet to learn the trade.
"There still are enough workers, but I don't know for how much longer," said Draghici, raising his voice above the sound of jackhammers and a growling bobcat scooping piles of brick and mortar into a large container. "Construction is getting bigger and bigger and the workers are going away from the country."