Europe's Gas Prices Pare Gains as EU Lawmakers Probe Gazprom
Natural gas prices in Europe pared gains on Thursday as traders weighed a supply crunch against the prospect that high costs will see industrial users curbing demand before winter.
The gas market's unprecedented surge prompted a group of EU lawmakers to call for an investigation into Gazprom PJSC's role in the price spike, saying they suspect market manipulation. The chief of the Russian exporter separately warned Europe about its own low storage reserves and the potential for higher prices, but underlined that Gazprom is a reliable supplier and would meet European demand in the coming winter "no matter how cold the weather."
The almost non-stop rally is prompting energy-intensive industries to curb consumption at a time when economies recover from the impact of the pandemic. Norwegian fertilizer maker Yara International ASA said Friday that it's cutting ammonia output capacity because of record-high gas prices. That comes after CF Industries Holdings Inc. said it's halting two U.K. plants due to energy costs. 
With storage sites across Europe in desperate need for a last-minute top-up, liquefied natural gas volumes continue to prioritize Asia just as a U.S. LNG plant remains offline after Storm Nicholas caused power issues earlier this week.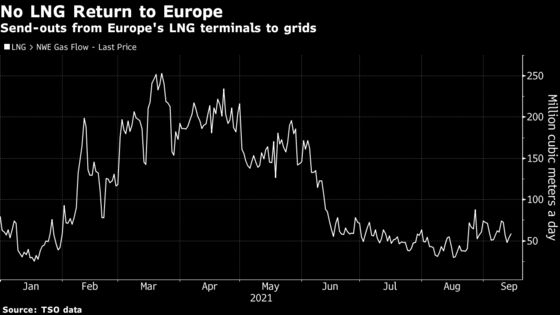 Flows to U.S. LNG export plants languished at the lowest since June after the Freeport facility in Texas was shut by Storm Nicholas earlier this week. The producer has declared force majeure on shipments of the fuel, according to people with knowledge of the matter.
Prices could remain high for weeks to come, International Energy Agency Executive Director Fatih Birol said in a Bloomberg TV interview. A former chief of U.K. energy regulator Ofgem said households will inevitably see their gas and electricity bills increased over a six-month period. 
Benchmark European gas prices traded in the Netherlands rose 0.8% to 63.75 euros a megawatt-hour by 3:23 p.m. in Amsterdam after falling as much as 1.4% earlier. Prices lost almost 11% on Thursday after gaining as much as 21% the previous day. 
U.K. gas futures for next month rose 1% to 160.06 pence a therm after slipping 0.8% earlier.
Europe is facing energy shortages, with Goldman Sachs Group Inc. warning that the region's industrial users will need to curb consumption. Inventories are at their lowest seasonal level in more than a decade and the heating season starts in about a month.
Traders are focusing on monthly capacity auctions for transport of gas via Poland and Ukraine on Monday. Extra gas coming from Russia in October would help relieve the market tightness.
EUROPE GAS OUTAGES: Aasta Hansteen Cuts Extended Into Next Week
MARKET NEWS
EUROPE WEATHER: Cold Outlook for East Set to Fade Next Week
Slowing European Gas Storage Refill Deepens Energy Crunch: Chart