Europe's Discount Carriers Look to Gain Share as Rivals Shrink
(Bloomberg) -- Even as the coronavirus pandemic hammers airlines around the world, discount carriers in Europe including Ryanair Holdings Plc and Wizz Air Holdings Plc are looking to continue expanding their fleets.
Wizz Air, the continent's third-biggest budget airline after Ryanair and EasyJet Plc, has said it will continue adding planes, in contrast to full-service carriers across the world seeking to defer aircraft deliveries from Airbus SE and Boeing Co. Ryanair, which has opposed bailouts for flag carrier's such as Air France-KLM and Deutsche Lufthansa AG, has said it will consider a follow-on order for additional Boeing 737 Max jets when the plane returns to service.
The diverging fleet patterns stand to shake up the order in Europe in coming years, as Ryanair moves up several ranks in terms of size and positions itself behind Lufthansa by about 2023.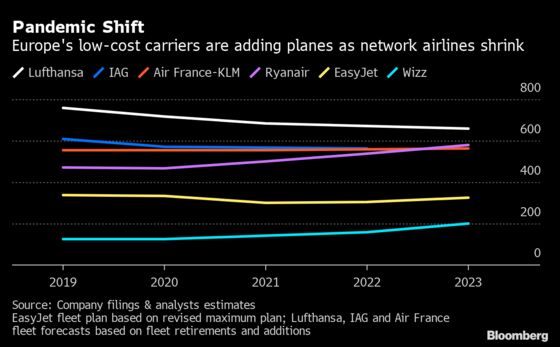 Low-cost carriers are better placed than network airlines, having gone into the Covid-19 pandemic with significantly higher cash reserves. And they generally rely on point-to-point short-haul services that are expected by the International Air Transport Association to recover first. By contrast long-haul travel, on which network carriers depend, could take as long as 2024 to bounce back, IATA estimates.
"After the crisis passes and a price war this summer ensues, Ryanair and Wizz stand on the cusp of a three- to five-year consolidation and expansion story, as the participants around them shrink and flounder," Mark Manduca, an analyst at Citi in London, wrote in a note to clients.
Wizz, based in Hungary, has said it wants to expand its new base at London's Gatwick airport, leveraging what it claims is the industry's lowest-cost base, from just one plane to 20 within a year if it can secure enough take-off and landing slots.