Dirty Money Flowed Across Europe for Years, But Little Happened
(Bloomberg) -- A full decade before ING Groep NV was pulled into the widening scandal involving Russian money laundering, the bank flagged suspicious accounts to the Belgian authorities.
The matter was probed and findings shared with the prosecutor in Lithuania, where a local bank served as a conduit for the flow of money into the West. By 2013, the investigation was halted because there was no proof the funds came from criminal activities.
It wasn't the only instance where authorities were alerted to suspicious transactions and failed to stop them. In Austria, prosecutors closed an investigation started by a lawyer who disclosed that he helped launder tens of millions for Russian criminals, according to the Organized Crime and Corruption Reporting Project, which this week revealed a vast money laundering network that funneled almost $5 billion through a complex network of shell companies from 2006 until 2013.
The examples show some of the shortcomings at European regulators and prosecutors that explain how suspicious funds could flow for years from Russia to accounts in the West. A patchwork of different systems and rules has hindered the policing of laundering, with no central European agency charged with investigating crimes that by one estimate may total as much as $2 trillion globally each year.
"More centralized money laundering controls and systems probably makes sense in the euro zone," said Howard Davies, the chairman of Royal Bank of Scotland Group Plc, which was pulled into the scandal this week. "I suspect in 3 to 4 years there will be a euro-zone anti-money-laundering regulator."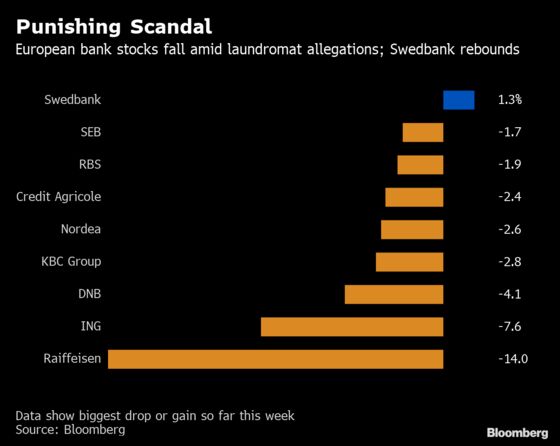 With a financial system barely recovered from a decade of serial crises, policy makers in European capitals need to strike a balance between tightening the screws on their own lenders and keeping banks on the road to sustainable profitability. Financial institutions from Stockholm to Amsterdam face uncomfortable questions about their handling of tainted funds, with investigations under way in the Baltic nations, the U.S., the U.K. and the Nordic countries. Almost daily revelations suggest there are more surprises to come on the misconduct.
"It's a big paradox that you have one single market with free movement for capital and services and so on, but you have 28 different anti-money laundering systems," said Jeppe Kofod, a Danish lawmaker in the European Parliament who helped in a year-long effort to investigate tax evasion and financial crime. "The financial sector is so interconnected and so transnational, it doesn't make sense to have this kind of fragmented system."
Recent disclosures highlight the breadth of suspicious activity that has enmeshed banks across the continent. A picture is forming of Nordic banks that, often via their Baltic units, became hubs for Russian criminals who channeled funds to the West. Nordea Bank Abp allegedly handled about 700 million euros ($793 million) in potentially dirty money, some of it linked to the death of Russian lawyer Sergei Magnitsky, the Finnish broadcaster YLE reported on Monday.
Others drawn into the scandal this week include Raiffeisen Bank International AG in Austria and Dutch institutions including ING. ING was aware of the potential involvement in money laundering of one of its clients at its Moscow branch, the newspaper Trouw reported Wednesday. Separately, more than 500 transfers of funds from the money laundering network identified by the OCCRP, amounting to about $150 million, were made to accounts at the Geneva branch of Credit Agricole, Switzerland's Tages-Anzeiger has reported.
While the numbers are big, they're "likely only the tip of the iceberg of what's becoming a global financial threat," Bloomberg Intelligence analyst Georgi Gunchev wrote in a report. Worldwide, the IMF estimates that as much as $2 trillion is laundered per year, about the size of the Italian economy, according to Gunchev.
Smaller countries like Latvia say they're overwhelmed and have called for a joint European authority to track and fight the flow of dirty money. Bigger countries such as Germany are skeptical, saying national authorities are better placed, given money laundering laws haven't been implemented evenly across the EU. The result is an effort to improve coordination within the existing framework, but that's insufficient, according to Jose Manuel Campa, the next head of the European Banking Authority, the EU's top banking regulator.
Germany, where Deutsche Bank AG is among banks tied to the scandal, is seeking to improve means of tackling money laundering and terrorist financing, Finance Ministry spokesman Dennis Kolberg said Wednesday at a news conference in Berlin.
While the lack of a central authority is one problem, another is showing that funds that were funneled through shell companies came from criminal activities. The "Troika Laundromat" described this week by media allied in the OCCRP shows examples for how cases are petering out even as red flags are waved by banks or others.
In the case of the Austrian lawyer, prosecutors said they weren't in charge of crimes committed abroad and by foreigners. A separate report filed to Austrian prosecutors by Bill Browder's Hermitage fund claimed, again, that Raiffeisen Bank ignored "red flashing lights" that could have halted illegal money flows. Hermitage pointed out Raiffeisen's possible involvement already 2016, but prosecutors didn't even start a formal probe, arguing that the tax fraud that was at the origin of the Hermitage case wasn't a sufficient prior crime, according to filings seen by Bloomberg.
Banks across the EU report more than a million suspicious transactions -- money transfers, account openings, client relationships -- to their national financial intelligence unit every year, according to the EU's police cooperation agency Europol. But only a 10th of those filings is further investigated by police or prosecutors, and only one percent of criminal proceeds in the European Union is ultimately confiscated, Europol said in a report two years ago.
"The need to prove a prior crime is a very high threshold for even starting an investigation," said Elena Scherschneva, a consultant who used to be the head of the Austrian federal police office's Financial Intelligence Unit. "Time and again we see structures that are obviously designed to conceal the origin of the funds. But because they conceal it, the probe is petering out because the prior crime can't be proven."