Summer Deals Top Half a Trillion as Advisers Skip Annual Lull
(Bloomberg) -- First they lost Christmas, and now global dealmakers are on course for their busiest-ever summer.
The relentless pace of global mergers and acquisitions has brought no let up for companies and their advisers in the traditionally quieter summer months of July and August.
Almost $550 billion of transactions have been already announced since the start of July and a flurry of developments in the last 24 hours points to a record being set before the new month is out, according to data compiled by Bloomberg.
Among the latest blockbusters is digital-payments platform Square Inc.'s $29 billion purchase of buy-now, pay-later company Afterpay Ltd. for $29 billion in its largest-ever acquisition. Elsewhere, News Corp. agreed to acquire Oil Price Information Service for $1.15 billion from S&P Global Inc. and IHS Markit Ltd.
"Liquidity across asset classes, from debt to public and private equity, confidence in corporate boards, valuations and activism, are all supporting these very high levels of activity," said Guillermo Baygual, co-head of Europe, Middle East and Africa M&A at JPMorgan Chase & Co.
"This is continuing through the summer and we do not envisage a material change at the other side of it," he said.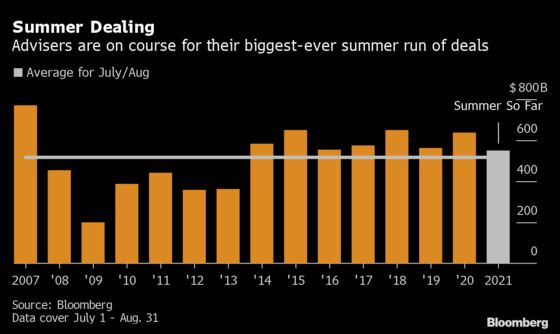 In Europe, summer figures are already at a post-crisis high, the data show, with volumes being driven up by deals in a range of industries.
Parker-Hannifin Corp., the U.S. maker of industrial motion-control systems, on Monday agreed to buy the U.K.'s Meggitt Plc for 6.3 billion pounds ($8.8 billion) in cash to strengthen its hand in a resurgent aerospace industry.
Around the same time, the U.K. business services provider Sanne Group Plc revealed it's in advanced discussions over a roughly 1.5 billion-pound takeover by the asset management platform Apex Group Ltd. Under the country's takeover rules, Apex has until the end of August to announce a firm intention to bid. Buyout firm Cinven Ltd. has already made several unsolicited offers for Sanne.
Meanwhile in Germany, real estate company Vonovia SE on Sunday nudged up its offer for rival Deutsche Wohnen SE to about 19.1 billion euros ($22.7 billion), sweetening an attempt to woo shareholders after last month's bid fell short. Vonovia is betting that the addition of 1 euro per share will finally sway enough investors after it missed out on getting to the 50% threshold.
"The global M&A market continues to exceed pre-Covid levels as economies around the world recover, strategic players look to consolidation opportunities and financial sponsors seek to put high levels of equity to work," said Dwayne Lysaght, co-head of EMEA M&A at JPMorgan.
While it's been a busy few months for deals, there are regulatory concerns building in the U.S., where Aon Plc last month abandoned a $30 billion takeover of insurance brokerage Willis Towers Watson Plc after Justice Department pushback. President Joe Biden has embarked on a crackdown on consolidation across various sectors, including technology, which could mean big deals become harder to do.
Goldman Sachs Group Inc., Morgan Stanley and JPMorgan are the top three banks for global deal advice when ranked by value since the start of July, the Bloomberg data show.