European Deals Hit Credit Crisis-Level Doldrums
(Bloomberg) -- European dealmaking is on course for its worst first quarter since the height of the credit crisis.
Unless something dramatic happens by the end of the week, Europe's on track to have the worst quarter for M&A since 2013, when unemployment and austerity plans were causing protests and countries were asking the European Union to bail out their banks. UBS Group AG's Chief Executive Officer, Sergio Ermotti called this year "one of the worst first-quarter environments in recent history" at a conference last week.
Mergers and acquisitions on the continent are down 35 percent so far this year compared to the same period in 2018, according to data compiled by Bloomberg. Without Europe's influence, deals globally would be up 9 percent -- thanks to a boom in the Middle East and Africa and a jump in U.S. dealmaking -- but as it stands they're down 5 percent.
"Heat is coming out of the M&A market," said Andy Ryde, a partner and head of the corporate practice at Slaughter and May. "After a pretty hot streak in 2018 and the year before, we have seen some signs of deal lethargy in the last three months."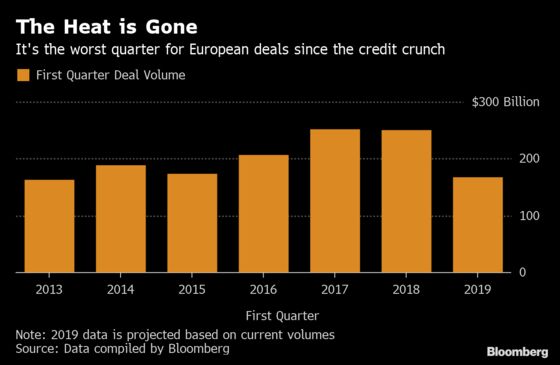 The problem, Ryde said, is wide-ranging, from fears about the ripple effects from Brexit, to broader worries about Europe's economy, and trade war concerns in the U.S. There's also been a dearth of large deals. This is the first quarter since 2013 without a single announced deal valued above $10 billion in Europe, the data show.
The uncertainty about the economic outlook and a lack of confidence in securing support for deals is likely to continue for the rest of the year, said Alison Harding-Jones, head of M&A for Europe, the Middle East and Africa at Citigroup Inc.
This quarter's doldrums follow a stellar period for deals, with M&A involving European firms topping $1 trillion in three of the last five years, according to the data.
"The macro environment and geopolitical events we've seen unfold over the last few months in Europe make large cross-border deals harder to pull off," said Robin Rousseau, head of M&A for Deutsche Bank AG in Europe, the Middle East and Africa. "Relatively higher levels of volatility in the equity markets are also a stumbling block because these deals need some level of market stability."
Share sales are doing worse. The amount European companies will raise from initial public offerings this quarter is on track to be the smallest since the third quarter of 2009. Non-European companies that had considered listing are also wavering. Middle Eastern hospital operator VPS Healthcare LLC is reevaluating its plans for a London IPO, a person with knowledge of the matter said this month.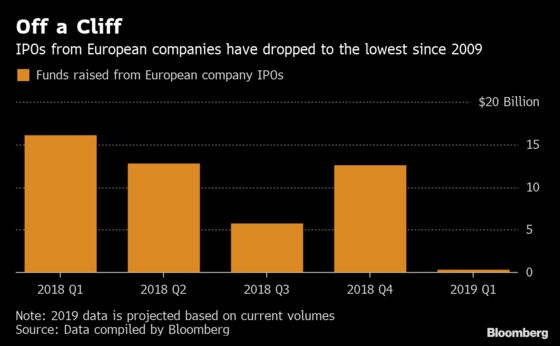 Private equity deals are still going strong. With private equity firms sitting on $1.2 trillion in dry powder, according to data provider Preqin, these firms are hunting for targets made cheaper by economic and political chaos. Indeed, private equity firms are responsible for the largest takeover in Europe this year, Hellman & Friedman and Blackstone Group LP's 4.9 billion euro ($5.6 billion) bid for German internet firm Scout24 AG, according to data compiled by Bloomberg.
Buyout firms are also key bidders for asset sales from Nestle SA and Bayer AG, which people familiar with the matter said have anticipated values of as much as $10 billion and $9 billion respectively, that could push M&A volumes higher this year.
Funds including Apax Partners and Warburg Pincus agreed to buy satellite operator Inmarsat Plc for $3.4 billion on Monday in one of the biggest-ever deals to delist a U.K. company.
"When I look around at clients, I'm not seeing fundamental reasons for not doing deals. It's more a case of waiting for the right deal," said Dwayne Lysaght, co-head of EMEA M&A at JPMorgan Chase & Co. "I still see a focus on strategically orientated transactions but companies will be selective at this stage in the M&A cycle."