Traders Return to Shadows as Dark Deals Jump on Softer MiFID
(Bloomberg) -- Europe's dark pools are filling up with equities again as some trading bans imposed under the MiFID II rules get lifted.
About 8 percent of all equities trading took place on private stock markets known as dark venues in the past month, after regulators ended suspensions on nearly half of the previously affected stocks, according to a Bloomberg calculation based on data from Cboe Global Markets Inc. That's up from 5.7 percent in the three months through August.
Investors use dark pools to move large blocks of stock without the visibility -- and price pressure -- they'd face on a traditional exchange. The venues are still attractive despite the complications introduced when the MiFID II rules kicked in at the start of the year, said Christian Voigt, senior regulatory adviser market-data firm Fidessa.
"MiFID II is overly complicated without actually achieving a lot, and this is the perfect example," Voigt said. "Politicians didn't like so much trading in the dark, but instead of changing the economic incentives they just slapped it with a ban."
Of the 1,262 financial instruments that were suspended from dark trading in August, 622 were able to return by mid-September, according to the European Securities and Markets Authority. That number rose to 678 in October. Cboe Europe, Goldman Sachs Group Inc. and UBS Group AG are among the firms that operate dark pools. UBS sent a note to clients last week informing them that some stocks are again available for dark trading.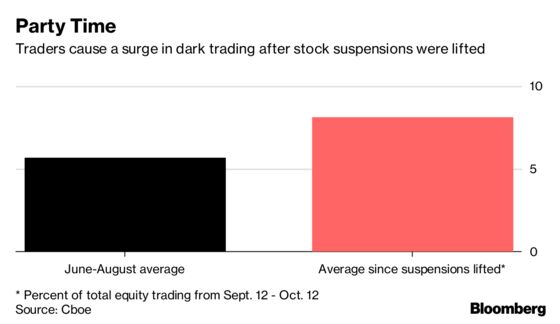 Some traders argue that using dark pools is necessary to fulfill another requirement in MiFID II -- to execute trades on the most favorable terms for their clients.
When one type of trading delivers a better price, lower cost and less market impact, investors will tend to embrace it, said Mark Montgomery, a former director at Barclays Plc who now covers strategy and business development at Big XYT. Reduced market impact refers to the fact that no one is supposed to see orders placed in a dark pool except the venue's operator until they are executed. That lessens the chance that the price will move against the buyer or seller.
"Regulators will be looking at this with interest," Montgomery said. "I wouldn't be surprised if they look to fine-tune the rules to get consistent behavior."